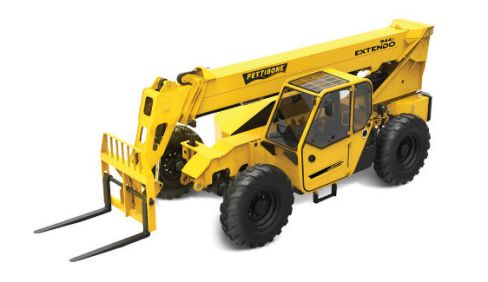 Double tap to zoom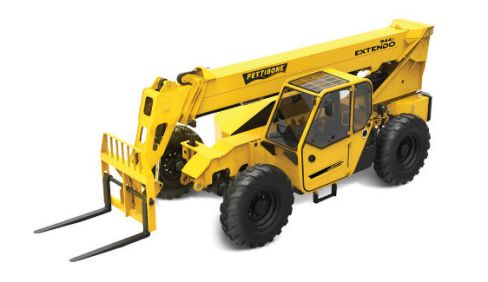 Features
Engine
The 74-horsepower Cummins QSF3.8 Tier 4 Final diesel engine features a DOC muffler and requires no diesel exhaust fluid (DEF). Side pod mounting offers easy service access while allowing excellent curbside visibility and ground clearance.
Drive-train & Axles
Drive-train and axles have been optimized to provide greater tractive effort with minimal trade-off on top end speed.
Dana 212 Series high steer axles provide excellent tractive effort.
Tight steer angle capability provides efficient turning radius.
Dana VDT12000 Power-shift transmission offers 3 speeds, forward and reverse.
Full time 4-wheel-drive with limited-slip front axle differential.
Boom Construction
Newly designed boom with formed boom plates offers greater strength with less weight.
Boom deflection minimized for better control and accuracy placing loads.
Boom overlap nearly doubled to provide smoother operation and reduce contact forces on wear pads.
Fastener-less wear pads simplify service.
Bottom-mounted external extend cylinder significantly reduces load on wear pads; cylinder location also provides better service access to internal boom components.
Compression tilt design allows for a smaller bore cylinder with same tilt force.
Single extension chain eliminates the need to balance dual chains.
Capacity & Reach
The 944X has a capable 9,000-pound load capacity rating. It achieves forward reach up to 30 feet and a maximum lift height of 44 feet, 6 inches.
Hydraulics
The Extendo's hydraulic circuit delivers exceptional control-ability, efficiency and cycle speeds.
Cylinder cushioning dampens the end of strokes – both extending and retracting – to prevent hard, jarring stops and avoid both wear-and-tear and potential load spills.
Single lift cylinder provides operator with clear sight lines.
Twin lines for tilt and auxiliary plumbing.
Steel Tanks
Damage-resistant, all-steel fuel and hydraulic tanks. Fuel tank provides ample fuel volume for a full day's work at 100% load.
Operator Station
The operator cab includes ergonomic seat, pedal, joystick and steering wheel positions. Available as an open canopy or enclosed cab, it features an all-steel interior with water-resistant components for easy wash-down.
New analog/LCD gauge cluster.
Enhanced climate control system.
Split door design allows upper half to lock in the open position.
Flat, bolt-in glass can easily be removed or replaced.
Openable rear window improves air flow while keeping cab dry.
Lockable storage area under seat for manual, gloves and tools.
Electrical
Split-system electrical panels allow for easier service of individual circuits.
Heavy-duty bright LED lighting.
Weather-sealed connections.
USB accessory plug in cab.
12-volt accessory plug in engine bay.
Service
Easy access to all filters and fluid level indicators.
Lockable fuel-fill in clean, accessible location.
Inside of boom easily accessible for service.
Non-tensioned boom hoses offer long service life.
Specifications
DIMENSIONS-
Overall Height
8' 3" (243 cm) boom down
Fork Carriage
48" (122 cm) standard
Ground Clearance
18" (46 cm)
Overall Length
22' (671 cm) to fork frame
Overall Width
8' 6" (259 cm)
Pallet Forks
2.25 x 4 x 48" standard
Approximate Operating Weight
22,000 lbs (9,979 kg)
ENGINE -
Model/Power
74 HP (55 kW) Cummins QSF3.8 Tier 4 turbo diesel with DOC muffler
Fuel Tank
30 gal. (114 L)
HYDRAULICS -
System
Pressure comp, axial piston pump
Features
Fully proportional functions
Auxiliary boom tip hydraulics
Quick disconnect for attachments
Controls
Single joystick, pilot operated
PERFORMANCE -
Max Load Capacity
9,000 lbs (4,082 kg)
Maximum Lift Height
44' 6" (1,356 cm)
Landing Height
41' (1,250 cm)
Maximum Forward Reach
30' (915 cm) at 24" LC
Below Grade Reach
3' (92 cm)
Maximum Travel Speed
15.2 mph (24.5 km/h)
Turning Radius
14' 1" (429 cm)
Drawbar Pull (GVW)
21,700 lbs. (9,843 kg)
Frame
24° of leveling (12° right and left)
Rear axle stabilization system
Transmission
Dana VDT12000 Series, 3-speed Power-shift, forward & reverse
Axles
Dana 212 Series: 4-wheel drive, 45% limited slip front differential
Steering
4 wheel, 2 wheel, and crab steer
Brakes
Oil-immersed inboard disc service brakes, integral front SAHR park brake
Tires
13.00 x 24, 16 ply, G2 tread air-fill standard
Boom
3-section, slide pad
Automatic fork leveling without slave cylinder