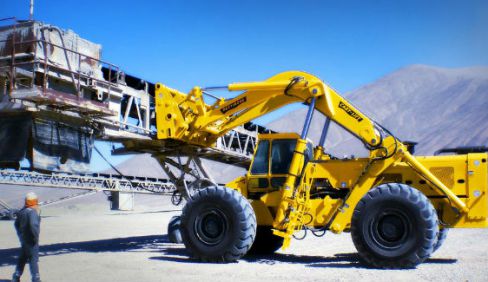 Double tap to zoom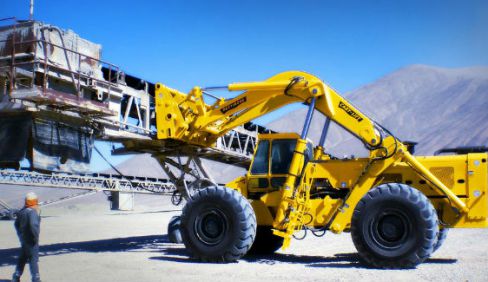 Features
Engine
The 304 is powered by a 240-HP Cummins QSB8.3 Tier 3 diesel engine with full electronic control and protection. The unit includes an engine-driven fan cooling package and engine block heater as standard equipment.
Joystick Control
Dual joysticks provides intuitive control of the hydraulics for lifting, tilting and reaching simultaneously.
Overhead Lift Arm
The unique overhead lift arm design gives the operator full front visibility when lifting, placing or transporting loads. The arms are mounted behind the cab, rather than in front where they would obstruct the forward view.
Solid Frame
Unlike other forward-reaching, articulated loaders, the 304 has a heavy-duty, solid steel frame design that allows it to take full loads into sharp turns without sacrificing load capacity or stability.
Wheel Base
Wheel base of just 14 feet, 5 inches provides a tight turning radius of 25 feet, 5 inches.
Steering
Excellent maneuverability thanks to 4-wheel drive with 2-wheel, 4-wheel and crab hydraulic power steering modes.
Hydraulic Frame Sway
Hydraulic frame sway control and side shift stabilize loads by leveling the lifting frame when driving on uneven ground. The sway cylinder moves 5 degrees both right and left of center.
90-Degree Fork Tilt Down
Cary-Lift forks are capable of tilting down 90 degrees for specialized lifting tasks.
Reach
The 304 is capable of reaching the forks out an extra 4 feet without having to reposition the machine. It offers a maximum lift height of 14 feet.
Fuel Tank
95-gallon (360 L) fuel tank capacity allows for longer operating intervals.
Operator Cab
A sliding door offers quick access to the comfortable cab, which includes a tilt/telescoping steering column and swiveling, adjustable suspension seat with padded armrests and lumbar support.
Windows
Large tinted safety glass windows contribute to better visibility.
Specifications
DIMENSIONS -
Overall Height
13' 5" (408 cm) - carrying position
19' 10.5" (606 cm) - max raised position
Fork Length
96" (244 cm)
Ground Clearance
26" (66 cm)
Wheel Base
14' 5" (439 cm)
Overall Length
34' 2.5" (1,043 cm) - carrying position
39' 10" (1,214 cm) - at max reach
Overall Width
11' 11" (363 cm)
Total Operating Weight
77,860 lbs (35,317 kg)
ENGINE -
Model/Power
240 HP (179 kW) Cummins® QSB8.3
Fuel Tank
95 gal. (360 L)
Fan
Engine driven
Cooling Package
CAC, radiator and transmission
Heating
Engine block heater
HYDRAULICS -
System
Fixed displacement with proportional control
Filter
Hydraulic return oil filtration (10 micron)
Tank
135 gal. (511 L)
Sway Cylinder
5° both right and left of center
PERFORMANCE -
Max Load Capacity (Retracted)
30,000 lbs (13,608 kg) 36" LC from back of fork
60,000 lbs (27,216 kg) tipping load
Max Load Capacity (Extended)
15,000 lbs (6,804 kg) 36" LC from back of fork
20,000 lbs (9,072 kg) tipping load
Maximum Lift Height
14' (427 cm)
Below Grade Reach
4.5" (11.4 cm)
Maximum Reach from Tires
4' 8" (142 cm) retracted
10' 1" (307 cm) extended, forks parallel 8' 10" from ground
9' 4" (284 cm) extended, forks parallel at carrying height
Maximum Travel Speed
3.9 mph (6.3 km/h) 1st gear
7.0 mph (11.3 km/h) 2nd gear
12.5 mph (20.1 km/h) 3rd gear
22.3 mph (35.9 km/h) 4th gear
Turning Radius
25' 5" (775 cm) 4-wheel steer
Transmission
Dana 6000, 4-speed Power-shift
Dana C5000 torque converter
Axles
AxleTech planetary front & rear; 4-wheel drive
Steering
Hydraulic power steering with 2 wheel, 4 wheel and crab steering
Service Brakes
4-wheel outboard dry hydraulic disc
Parking Brake
Spring applied hydraulic release
Tires
29.5 x 29, 34 ply interchangeable
Lighting
2 headlights, 2 stop/taillights, 1 reverse light