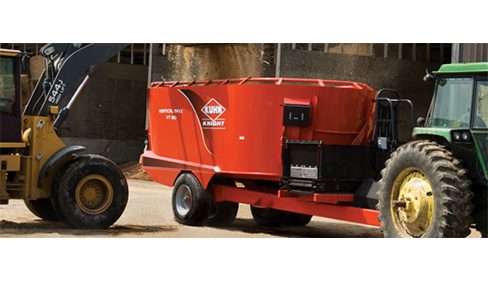 Double tap to zoom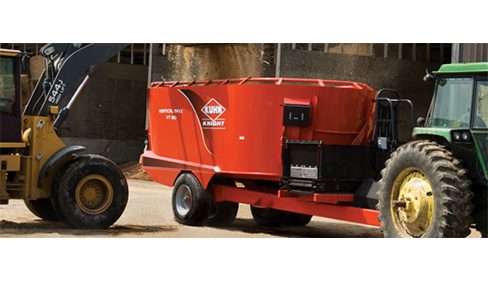 Features
Simple, Dependable Drive
The patented drive system consists of a 2-speed splitter gearbox, two planetary gearboxes, and two torque-disconnect PTOs that provide independent protection for each planetary, ensuring reliable service and longer life. The two heavy-duty planetary gearboxes are designed to provide dependable performance with moderate use cycles. The VT drive system allows the use of single-stage planetaries, which produce far less heat for easier cooling.
Efficient Mixing Chamber
The straighter sides and steeper baffles allow for greater feed movement with less horsepower required. The improved feed exchange provides a fast, complete mix for a fluffy and palatable ration.
Advanced Auger Design
Redesigned augers provide superior feed movement for faster, more complete mixing and processing. The cone-shaped design of the augers promotes consistent material flow and improves clean off. Enhanced material flow also results in a lower horsepower requirement for more efficient, economical operation.
Efficient Discharge Kicker
The curved, bolt-on auger kicker is formed rearward to efficiently charge the door with feed the entire way on each pass for even discharge and decreased unloading time.
Rugged Undercarriage Options
Straight-single and walking-tandem-bogie axle options are available, providing flexibility to fit the terrain. Both axle systems are located under the tub for decreased tread width to keep the tires from running over the feed.
Heavy-Duty Conveyor
The heavy-duty front cross conveyor has also been redesigned for dependability in even the heaviest-use situations. A stainless steel floor and the heaviest conveyor chain in the industry, help ensure long service life and less down time.
Specifications
| | |
| --- | --- |
| Capacity - no extensions (m3) | 23 |
| Capacity - no extensions (cu.ft) | 800 |
| Number of augers | 2 |
| Overall height - no extensions (cm) | 279 |
| Overall height - no extensions (in) | 110 |
| Overall width - without options (cm) | 297 |
| Overall width - without options (in) | 117 |
| Tread width (cm) | 267 |
| Tread width (in) | 105 |
| Weight (kg) | 9225 |
| Weight (lb) | 21000 |
| Drive | Planetary |
| PTO speed (rpm) | 1000 |
| Minimum power requirement for PTO (kW) | 104 |
| Minimum power requirement for PTO (hp) | 140 |
| Maximum load (kg) | 11975 |
| Maximum load (lb) | 26400 |
| Door opening (h x w, cm) | 122 x 102 |
| Door opening (h x w, in) | 48 x 40 |
| Auger Diameters (cm) | 264 |
| Auger Diameters (in) | 104 |