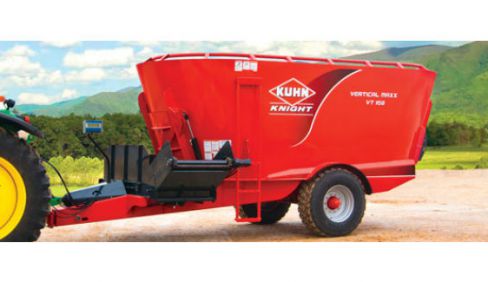 Double tap to zoom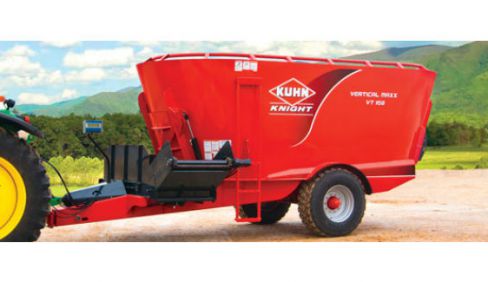 Features
Advanced Auger Design
Redesigned augers provide superior feed movement for faster, more complete mixing and processing. The cone-shaped design of the augers promotes consistent material flow and improves clean off. Enhanced material flow also results in a lower horsepower requirement for more efficient, economical operation.
Efficient Mixing Chamber
Improvements to the mixing chamber work in coordination with the redesigned augers to increase feed movement. Straighter sides, smoother curves on the ends, baffles and doors, as well as steeper baffles help promote a fast, complete mix and a fluffy, palatable ration. Faster auger speeds also provide quicker, more complete cleanout.
Straight Drive
The straight-drive planetary system provides simplicity for lower feeding-cycle applications.
Versatile Dischage Options
Front Discharge
The redesigned front cross conveyor uses rugged components for unmatched dependability. A heavy-duty steel floor, along with the heaviest conveyor chain in the industry, help ensure long life and less down time. New options provide the ultimate in versatility to match most feeding situations.
Side Discharge
Side-discharge options are now available for both truck and trailer models. Truck models offer a left-side door, while trailer models offer doors on either or both sides. The large openings allow fast unloading with comparable feed flow out of one door that many competitive machines get with two
Customize Options
Hay-Retention Ring
The steel hay-retention ring helps contain large round bales during processing and reduces hay spillage more effectively compared to similar options on competitive models.
Capacity Belt Extension
A belt extension added to the top of the mixing tub increases capacity by about 10%. It also improves hay containment, and the rubber construction is durable and pliable for long life.
Tip-Off with Magnets
A fixed tip-off with magnets can be added to the both the flat and inclined front conveyors, as well as the side conveyor options. The magnets work to catch small metal fragments present in the feed and help promote herd health.
Hanging Belt with Magnets
Either or both ends of the flat front conveyor can be fitted with a hanging belt that has magnets to catch small metal fragments. The hanging belt also helps to even feed flow off the end of the conveyor.
Viewing Platform
Most models feature a standard observation ladder to easily check the inside of the mixing chamber. Front door trailer models also offer an optional viewing platform for a convenient, comfortable place to monitor mixing progress.
Specifications
| | |
| --- | --- |
| Capacity - no extensions (m3) | 19 |
| Capacity - no extensions (cu.ft) | 680 |
| Number of augers | 2 |
| Overall height - no extensions (cm) | 279 |
| Overall height - no extensions (in) | 110 |
| Tread width (cm) | 264 |
| Tread width (in) | 104 |
| Weight (kg) | 6350 |
| Weight (lb) | 14000 |
| Drive | Planetary |
| PTO speed (rpm) | 1000 |
| Minimum power requirement for PTO (kW) | 90 |
| Minimum power requirement for PTO (hp) | 120 |
| Maximum load (kg) | 10342 |
| Maximum load (lb) | 22800 |
| Auger Diameters (cm) | 218.4 |
| Auger Diameters (in) | 86 |