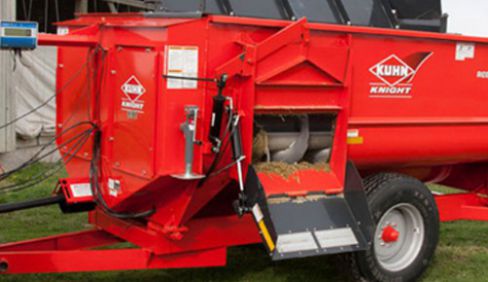 Double tap to zoom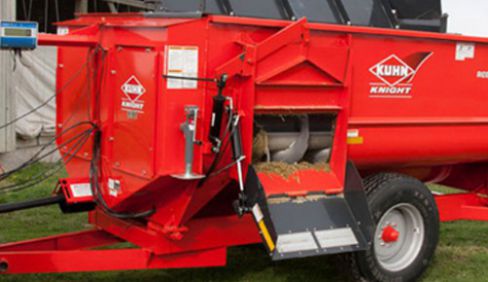 Features
Fast, Gentle, Thorough Mixing
The large-diameter reel works together with the side-blending augers to produce an end-to-end and side-to-side mixing action for a consistent ration, even with small batches. This unique combination ensures fast mixing and unloading to save time and maximize efficiency.
Lower Fuel Consumption
The fast, gentle mixing of Reel Auggie mixers helps maximize efficiency and minimize expense. The reel and auger design eliminates much of the force and pressure seen with other mixer types. The result is low horsepower requirements and less fuel consumption for a more economical operation.    
Multiple Discharge Options
Chain and Slat Conveyer
Rugged chain and slat conveyor options provide the ultimate in durability and long life. Heavy-duty components ensure reliable service and multiple conveyor length options offer unmatched flexibility to match different feeding situations.
Slide Tray
The high discharge point of the Reel Auggie mixers allows use of the simple, dependable, low-cost slide tray in most applications. It has simple hydraulic controls and the long discharge tray reaches deeper into bunks to prevent feed loss from the wind.
3-Auger Discharge
The 3-auger design allows adjustment for feeding into higher bunks. It has a simple, hydraulic drive that provides smooth, even discharge and the augers are easy to remove for fast service. Long lasting poly chute liners help prevent rust and limit wear.
Heavy-Duty Undercarriage
The rectangular tube frame construction with steel bumper provides strength, reliability, and added unit protection. Large-diameter spindles provide optimum strength and durability. The adjustable and reversible clevis hitch adapts to different drawbar heights.
Rugged, Dependable Drive
The dependable, heavy-duty roller chain drive runs continually in an oil bath for added protection. This system eliminates the use of gearboxes for easier service and maintenance. The front drive on the 3100 Series models is protected by an easily accessible and easily replaceable shear bolt.

Splined drive shafts and sprockets provide outstanding strength and durability. Heavy-duty bearings are mounted on the outside of the mixing chamber for easy service and long life.
Specifications
| | |
| --- | --- |
| Capacity - no extensions (m3) | 8.5 |
| Capacity - no extensions (cu.ft) | 300 |
| Number of augers | 2 |
| Overall height - no extensions (cm) | 224 |
| Overall height - no extensions (in) | 88 |
| Overall width - without options (cm) | 239 |
| Overall width - without options (in) | 94 |
| Tread width (cm) | 213 |
| Tread width (in) | 84 |
| Weight (kg) | 3884 |
| Weight (lb) | 8562 |
| Minimum power requirement for PTO (kW) | 45 |
| Minimum power requirement for PTO (hp) | 60 |
| Maximum load (kg) | 4082 |
| Maximum load (lb) | 9000 |
| Door opening (h x w, cm) | 91 x 51 |
| Door opening (h x w, in) | 36 x 20 |
| Reel arms | 4 |
| Reel diameter (cm) | 152 |
| Reel diameter (in) | 60 |
| Reel speed (rpm) | 7.26 |
| Auger diameter - lower (cm) | 46 |
| Auger diameter - lower (in) | 18 |
| Auger diameter - upper (cm) | 46 |
| Auger diameter - upper (in) | 18 |