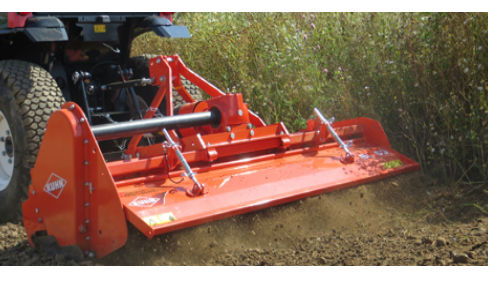 Double tap to zoom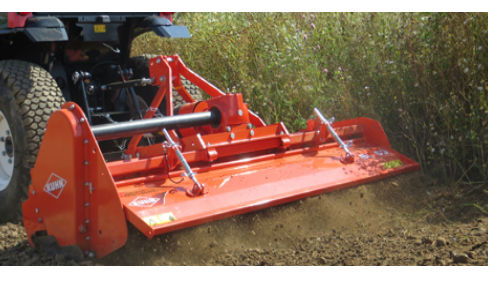 Features
Rotor Drive
The rotor is driven by tempered steel sprockets, located in a side case with thick walls on the EL 53. The oversized chain with automatic tension adjustment is much more resistant to fatigue than competitive models. The drive chain is immersed in an oil bath for consistent lubrication.
Central Gearbox
The central cast iron gearbox of the smaller models is mounted directly on the tiller frame with hardened forged steel gears that run in an oil bath. It can be offset with the 3-point frame to avoid an awkward angle on the transmission. This allows it to work easily under trees and on field edges. The drive is protected as standard by a friction slip clutch.
Adjustable Rear Hood
The rear hood of EL tillers is ideally shaped for a uniform soil flow and adaptable to various conditions such as shallow or deep tillage, dry or wet soil, and different quantities of plant residue. Adjusting the rear hood by way of check chains is easy and efficient. If the rear hood is positioned close to the rotor, it accumulates soil until the latter is recycled to the front, which results in a high crumbling degree. In wet conditions or in plant residues, the machine will cope better with a more open rear hood.
C-Blades
The special curved design of the Kuhn tiller blades has been optimized, tested and provides chopping and mixing of plant residues, aggressive entry into hard soil while requiring less horsepower and increased crumbling of soil clouds. The EL 53 is fitted with six blades per flange as standard for efficient crumbling. For shallow work, L-blades can be fitted on the EL 53.
Quick Hitch Compatible
With a simple optional adaptor the hitch of the EL 43 is compatible with the North American cat.1 Quick Hitch for faster attachment and removal.
Specifications
| | |
| --- | --- |
| Working width (m) | 1.88 |
| Working width (inches) | 74" |
| Rotor diameter (mm) | 430 |
| Minimum power requirement for PTO (kW) | 24 |
| Minimum power requirement for PTO (hp) | 32 |
| Speed of rotor/s at 540 min-1 (min-1) | 244 |
| Maximum authorised tractor power (kW) | 37 |
| Maximum Authorised Tractor Power (hp) | 50 |
| Lateral drive mechanism | Chain |
| Type of tools | C-blades |
| Working depth (min.) (cm) | 5 |
| Working depth (mini) (inches) | 6" |
| Working depth (max.) (cm) | 15 |
| Working depth (max.) (inches) | 49" |
| Control of working depth | With skids or wheels |
| Weight with skids/wheels (kg) | 295 |
| Weight with skids/wheels (lb) | 728 |