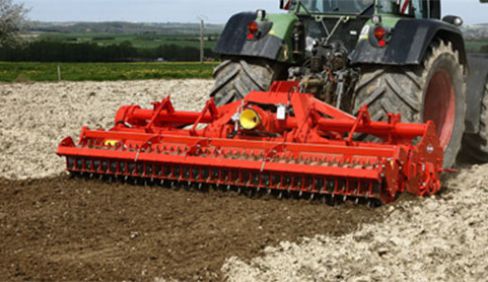 Double tap to zoom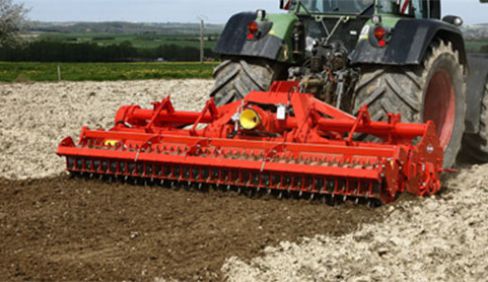 Features
Side Gearbox
Particular care has been taken with the rotor drive design: All pinions in the gearbox are supported on both sides by tapered roller bearings. The large geartooth profile used is unrivalled in the industry. The double drive (design similar to the planetary gear train) ensures a smoother and more efficient drive than with two individual gearboxes. An integrated pump for oil circulation ensures both gearwheel lubrication and gearbox cooling. The large oil tank surface allows efficient evacuation of calories without requiring a delicate radiator and fan system that could easily become clogged. High performance sealing: The rotor drive flange is fitted with the best sealing system available, a metallic face seal for unequalled performance and long life.
Duplex Gearbox
Designed for heavy-duty applications, the gearbox is capable of handling powerful tractors. Thanks to the invertible gear sets, the rotor speed can be quickly adapted to obtain the required result: an adequate crumbling whatever the soil type is, light or hard. To offer a larger range of speeds, standard gear sets as well as optional gears are available. A rear PTO stub shaft is available as standard, which enables power to be transmitted to other implements fitted to the tiller.
Duplex Gearbox
The EL 122 power tiller can be equipped with one of three different rotors including the Cultirotor (C-blade), Cultiplow or Cultitiller versions. The Cultirotor is efficient in incorporation of plant residues, pasture reclamation, and seedbed preparation. The Cultiplow rotor provides intensive crumbling for demanding cultivations and excels particularly in fine tilth preparations when cultivating hard soils. The Cultitiller rotor, with Fast-Fit® blades is the ideal rotor for seedbed preparation in minimum tillage work and incorporation of plant residues.
Several Depth Control Options
The EL power tillers come with several different roller options for different conditions and efficient regulation of depth control. Roller options available include the Crumbler, Maxicrumbler, Packer 2, Maxipacker, Packliner and Steelliner rollers. When fitted with a roller, depth adjustment is easily performed using pins inserted into a multi-hole quadrant. The roller is free to drop, maintaining maximum contact with the soil in any condition. This provides optimum firming of the seedbed and helps level the cultivated surface.
Rotor Drive
On the larger EL models the rotor is driven by case hardened, forged steel gears, which are mounted on conical or double row roller bearings for maximum capacity. They run in an oil bath. The heavy-duty sealing of the lower gearcase is fitted with a metallic face seal, which provides the highest possible resistance to leaking and contamination in abrasive soil conditions
Specifications
| | |
| --- | --- |
| Working width (m) | 3 |
| Working width (feet) | 9'10" |
| Rotor diameter (mm) | 600 |
| Speed of rotor/s at 1000 min-1 (min-1) | 244 - 287/208 - 337/192 - 366 |
| Maximum authorised tractor power (kW) | 201 |
| Maximum Authorised Tractor Power (hp) | 270 |
| Lateral drive mechanism | Gearwheels |
| Type of tools | L-blades or straight. angled tines or C-blades |
| Working depth (min.) (cm) | 8 |
| Working depth (max.) (cm) | 26 |
| Control of working depth | With front wheels. rear wheels or rollers |
| Weight with Maxicrumbler roller (kg) | 1870 |
| Weight with Packer PK2 roller (kg) | 2130 |
| Weight with Maxipacker roller (kg) | 2095 |