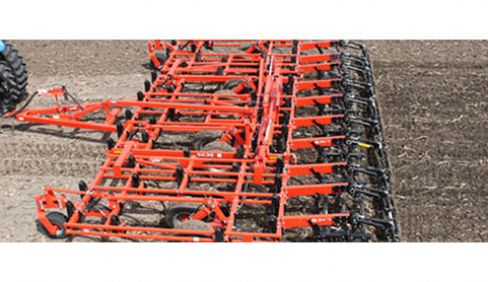 Double tap to zoom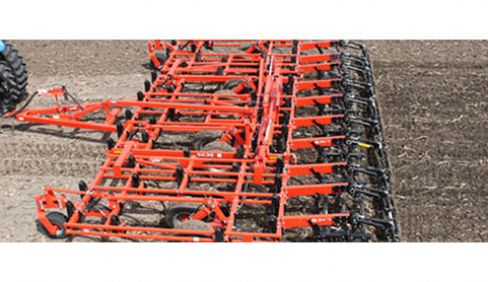 Features
Positive Mechanical Depth Control
With positive mechanical depth control, there's no worrying about unwanted depth changes due to cylinder leakdowns. Each set of walking tandems is adjusted individually with a handy ratchet. During field operation, the cylinders are fully retracted, eliminating leak and extending cylinder life. Convenient depth gauges at each adjustment location verify uniform depth settings across the machine
5-Bar Bridge Frame
The bridge frame features 2" x 2" front-to-rear members stacked on 3" x 4" side-to-side beams. Welds are lapped for maximum strength and extended frame life. This field proven design is stronger than conventional frames and provides greater flexibility.
Floating Hitch
The exclusive Kuhn Krause floating hitch system precisely gauges tillage depth for rolling terrain resulting in fast, even emergence. Uniform tillage depth creates consistent soil moisture in the seed zone allowing seeds to draw moisture from the surrounding soil at the same rate. This enhances seedling emergence, which is critical for maximizing yield potential.
Transport Advantage
In the field position, the 5635 contours over rolling ground conditions transforming into a rigid, self-leveling style when raised to the transport position. The floating hitch system raises the gauge wheels off the ground during transport providing greater machine stability and control compared to conventional floating hitch designs.
Split-the-Middle Shank Design
• The first three ranks of shanks till the full machine width, while the fourth and fifth ranks till the middles creating a Split-the-Middle sweep pattern.
• Six-inch shank spacing provides maximum tillage action and uniform soil, residue and herbicide mixing.
• Front-to-rear frame clearance of 138'' allows the 5635 Field Cultivator to handle high volumes of residue.
24/7® Leveling System
Kuhn Krause offers a variety of harrows to meet your specific soil and residue requirements. These harrows are available for all sizes and provide time saving features to increase overall productivity.
Specifications
| | |
| --- | --- |
| Working width (feet) | 50' 6" |
| Frame type | Quad Fold |
| Maximum authorised tractor power (kW) | 119 |
| Maximum Authorised Tractor Power (hp) | 160 |
| Weight (lb) | 8877 |
| Working width (m) | 15,3 |
| Number of wheels | 16 |
| Number of Shanks | 101 |
| Shanks spacing (cm) | 15.2 |
| Shanks spacing (in) | 6" |
| Transport width (m) | 4.6 |
| Transport width (feet) | 15' 9" |
| Transport Height (m) | 4.4 |
| Transport Height (feet) | 14' 8" |
| Number of sections | 5 |
| Weight (kg) | 7652 |
| Weight (lb) | 16871 |
| Tractor Power (kW) | between 223 and 298 |
| Tractor Power (hp) | between 300 and 400 |