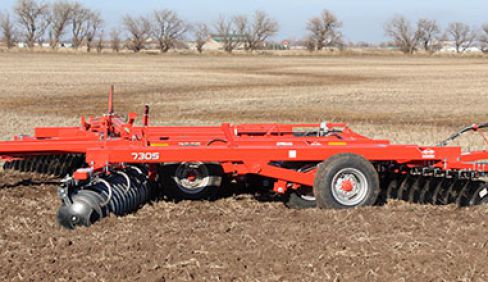 Double tap to zoom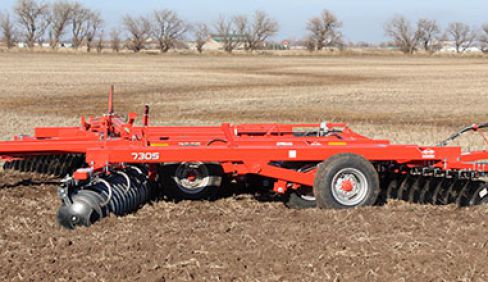 Features
Disc Gangs
The 7305 disc harrow features 22'' diameter blades, 6'' diameter bell ductile iron spools with 17-degree front and rear gang angle. Choose from the Class I seedbed finishing model with 7-3/4'' narrow blade spacing or the Class II all-purpose model with wide 9-1/8'' blade spacing. Rear gangs feature tapered blades to eliminate ridging. Bolt-on extension spool and furrow filler blade are standard equipment on 7305 discs.
Single-Point Depth Control
Adjust working depth across the entire disc from a single location with just one convenient crank at the front of the disc. Fine tune depth using the indicator decal - five turns changes the operating depth by one inch. Return to the same depth after each pass or change depth in the field in a matter of seconds.
Walking Tandems
Standard on all 7305 disc harrows, heavy-duty walking beams with new metric tires allow for consistent working depth on rough ground and more stable road transport. Walking beams have slip-in spindles and heavy-duty hubs. Walking beam pivots require no daily grease maintenance or adjustment for preload.
No Daily Grease Maintenance
PEER® TillXtreme™ bearings, incorporated into disc gang assemblies, require no daily grease maintenance. An exclusive, KUHN Krause two-piece, nylon outer ring absorbs shock loads and helps center the bearing within the housing, preventing bearing preload and premature failure of the disc gang bearing.
Additional Features:
Hitch - AB (articulating ball) Cast Hitch will be available in a CAT III or CAT IV dependent on model.
Tractor Interface Center -  This feature prevents hydraulic hose damage due to contact with the tongue or tractor drawbar, it also provides operators with a convenient place to store the hydraulic hose couplers, hydraulic road lock valves and 12-volt electrical connections.
Finishing Attachments - A 16" coil-tine 3-bar harrow is an available option for the 7305 disc harrow.
Rear Hitch - Rear trail hitch for packer is available for machines without the 3-bar harrow. The trail hitch has a 1,000 lb. vertical load and 10,000 lb. towing capacity.
Specifications
| | |
| --- | --- |
| Working width (m) | 8,2 |
| Working width (feet) | 26' 9" |
| Number of discs | between 86 and 74 |
| Disc diameter (cm) | 55,8 |
| Disc diameter (in) | 22" |
| Disc Spacing (cm) | between 19,7 and 23,2 |
| Disc Spacing (in) | 7.75" or 9.125" |
| Number of wheels | 8 |
| Number of bearing arms | 20 |
| Transport width (m) | 4.4 |
| Transport width (feet) | 14' 7" |
| Transport Height (m) | 3.9 |
| Transport Height (feet) | 12' 10" |
| Number of sections | 3 |
| Frame type | Folding |
| Weight (kg) | between 4818 and 4952 |
| Weight (lb) | between 10621 and 10918 |
| Tractor Power (kW) | between 120 and 181 |
| Tractor Power (hp) | between 163 and 243 |