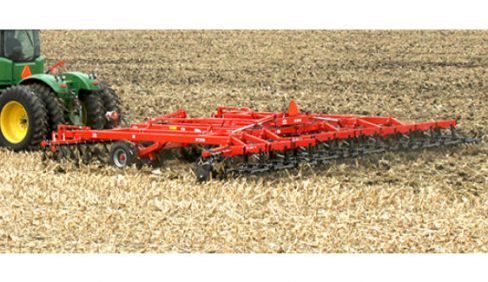 Double tap to zoom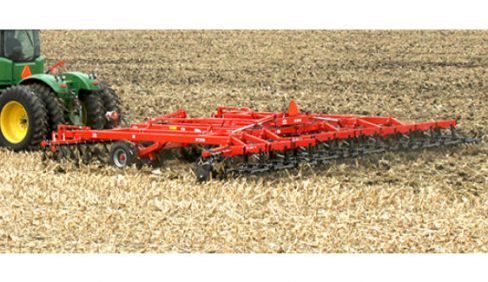 Features
Disc Gangs
The KUHN Krause 8315 tandem disc harrow offers a choice between 24'' or 26'', ¼'' thick Residue Razor™ disc blades spaced 9'' or 10'' apart on the front gang and 10'' apart on the rear gang. Heavy-duty, ductile iron spools with a 7" diameter bell multiply the strength of the gang. The 22-degree gang angle on the front and 19-degree gang angle on the rear allow for optimum residue cutting and mixing in primary tillage conditions.
Residue Razor™ disc blades are engineered to provide long wear life and sharpness - up to 5 times sharper than conventional blades.
Single-Point Depth Control
Adjust working depth across the entire disc from a single location with just one convenient crank at the front of the disc. Fine tune depth using the indicator decal - five turns changes the operating depth by one inch. Return to the same depth after each pass or change depth in the field in a matter of seconds.
Walking Tandems
Standard on all KUHN Krause 8315 disc harrows, heavy-duty walking beams with new metric tires allow for consistent working depth on rough ground and more stable road transport. Walking beams have slip-in spindles and heavy-duty hubs. Walking beam pivots require no daily grease maintenance or adjustment for preload.
No Daily Grease Maintenance
PEER® TillXtreme™ bearings, incorporated into disc gang assemblies, require no daily grease maintenance. An exclusive, KUHN Krause two-piece, nylon outer ring absorbs shock loads and helps center the bearing within the housing, preventing bearing preload and premature failure of the disc gang bearing.
Specifications
Working width (m)
10,4
Working width (feet)
34' 1"
Number of discs
between 90 and 86
Disc diameter (cm)
between 61 and 66
Disc diameter (in)
24" or 26"
Disc Spacing (cm)
between 22,9 and 25,4
Disc Spacing (in)
9" or 10"
Number of wheels
8
Number of bearing arms
between 24 and 26
Transport width (m)
5.2
Transport width (feet)
17'
Transport Height (m)
4.5
Transport Height (feet)
14' 8"
Number of sections
3
Frame type
Folding
Weight (kg)
between 9020 and 9446
Weight (lb)
between 19886 and 20826
Tractor Power (kW)
between 202 and 253
Tractor Power (hp)
between 272 and 340