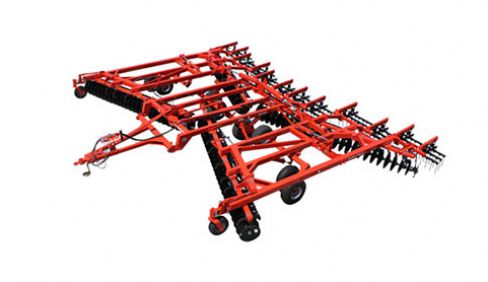 Double tap to zoom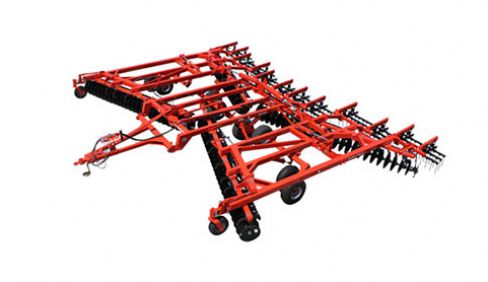 Features
Single-Point Depth Control
Adjust working depth across the entire disc from a single location with a convenient crank at the front disc. Fine-tune depth using the indicator decal. Five turns change the operating depth by one inch.
Gangs
The Kuhn Krause 8310 Tandem Disc Harrow offers a choice between 24'' or 26'', ¼'' thick Residue Razor® disc blades spaced 9'' or 10'' apart on the front gang and 10'' apart on the rear gang. Heavy-duty, 7'' diameter, ductile iron spools multiply the strength of the gang. The 22-degree gang angle on the front and 19-degree gang angle on the rear allow for optimum residue cutting and mixing in primary tillage conditions. Rock-Flex bearing arms and heavy-duty regreaseable SuperSeal bearings deliver the durability synonymous with the Kuhn Krause name.
Heavy-Duty Walking Beams
Standard on all 8310 Disc Harrows, heavy-duty walking beams allow for consistent working depth on rough ground and more stable road transport. Walking beams have slip-in spindles and heavy-duty hubs.
Leveling Systems
Three leveling systems are available for the Kuhn Krause 8310 Disc Harrow.
24/7® 3-Row Coil Tine Harrow
Featuring a parallel link leveling system for superior residue flow and even distribution, the coil tine harrow offers an increase in yield potential and improved residue management even in high residue conditions.
3-Bar Spike Harrow
For excellent clod sizing in low to moderate residue conditions, the 3-bar spike harrow is an efficient way to create a level seedbed.
24/7® Soil Conditioning Reel
For maximum clod sizing, leveling and soil firming the 24/7 soil conditioning reel is your choice. Choose the round, spiral rods for loamy soils or flat, spiral blades for high clay soils. A float setting widens the tillage/weather window when operating in wet soil conditions.
Quad-Fold™ — The Ultimate in Transportability
Quad-FoldTM design features a rigid center section with a folding inner and outer wing. The outer wing hydraulically locks to the inner wing in field use to create a 3-section disc with even weight distribution.
Specifications
| | |
| --- | --- |
| Working width (m) | 11,4 |
| Working width (feet) | 37' 3" |
| Number of discs | between 100 and 94 |
| Disc diameter (cm) | between 61 and 66 |
| Disc diameter (in) | 24" or 26" |
| Disc Spacing (cm) | between 22,9 and 25,4 |
| Disc Spacing (in) | 9" or 10" |
| Number of wheels | 10 |
| Number of bearing arms | between 28 and 30 |
| Transport width (m) | 5.3 |
| Transport width (feet) | 17' 7" |
| Transport Height (m) | 4.1 |
| Transport Height (feet) | 13' 5" |
| Number of sections | 5 |
| Frame type | Quad Fold |
| Weight (kg) | between 10868 and 11163 |
| Weight (lb) | between 23961 and 24612 |
| Tractor Power (kW) | between 220 and 275 |
| Tractor Power (hp) | between 296 and 370 |