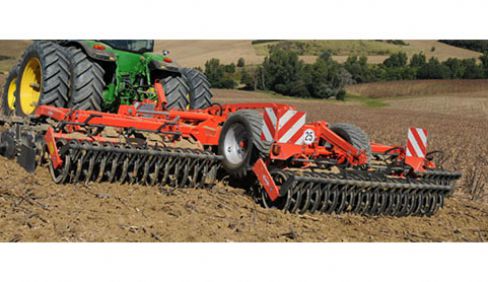 Double tap to zoom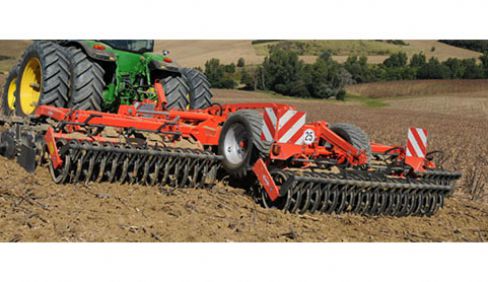 Features
Disc Type
The Optimer+ has two different types of discs available. The 20" curved disc with notches excels in working in large quantities of plant residues, shredding crop residues, and ensuring even mixing of the soil and residues. The 20" discs with small notches excels in working in small quantities of plant residues and improved work for shallow stubble clearing.
Multiple Roller Options
T-Ring

T-Liner

Packliner
A range of rollers are available on the Optimer+ series including the T-Ring, T-Liner, and Packliner roller options. The T-Ring roller crumbles clay and or cloddy soil, keeps its roughness on loams, and helps with straw decomposition. The T-Liner roller enables good crumbling, performance in stony grounds and compaction over the whole width. The Packliner roller ensures excellent consolidation, forced seed emergence, and operates well in damp conditions.
Independent Disc Safety
Individual disc safety is ensured by a system of four polyurethane elastomer blocks allowing the discs to move if an obstacle is hit. As each disc reacts independently, the working depth is not altered across the cut width.
Increased Clearance and Reduced Maintenance Hubs
The new arms provide increased clearance to the fame. This allows a wider range of use because of the increased capacity in case of large quantities of plant residues. The hubs have double rows of oblique contact ball bearings and are lubricated for life. No more maintenance required allows for time savings.
Compact Design with Simple Adjustments
The Optimer's compact design and small overhang means it can be adapted to most tractors you would find on mixed farms. With the Optimer's simple adjustments, working depth can be adjusted continuously from 1"- 4" using an easy to access stop screw and a graduated plate.
Specifications
| | |
| --- | --- |
| Working width (m) | 7.5 |
| Transport width (m) | 3 |
| Disc diameter (mm) | 510 |
| Number of discs | 48 |
| Weight (kg) | 5500 |
| Maximum authorized tractor power (kW) | 166 |
| Maximum Authorized Tractor Power (hp) | 225 |