Kuhn VARI-MANAGER NSH - 6 bodies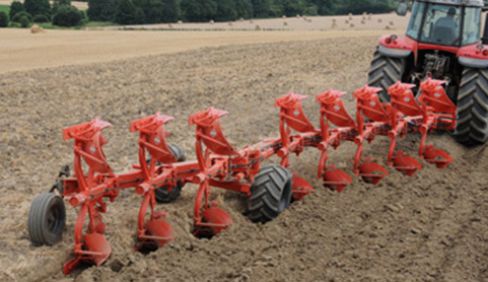 Double tap to zoom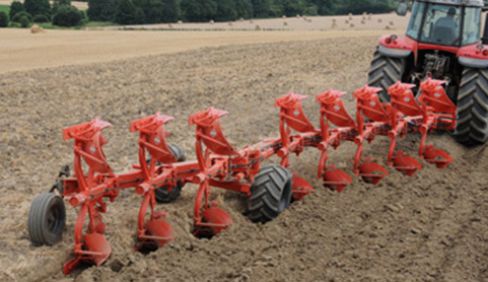 Features
Hydraulic Sequencing
The hydraulic sequencing simplifies headland maneuvers and reducing driver fatigue. In the tractor cab, the same lever controls both the lifting out of work and turnover of the plow in one combined automatic operation.
Beam Articulation
The beam articulation allows the plow to follow undulating terrain for a constant plowing depth along the length of the plow. When coming out of work, while the front bodies are lifted out of the ground, the rear bodies remain at a constant working depth giving reduced headlands and a neater finish. The articulation locks automatically when coming out of work and remains locked during all movement. The articulation is unlocked as soon as the plow is put back into work.
Moldboards
Moldboards are made of unequal layer, heat-treated Triplex® steel that have an increased working life up to 40% and a hard wearing surface over 1/8" thick. Forged with a force of 6,000 tons ensuring excellent wear resistance and self-sharpening profile due to the grain in the steel resulting from the forging process. Depending on the soil type, Kuhn offers three different types of moldboards. The H4 moldboard is recommended for fall plowing, as it is suited for heavy and damp clays. The N moldboard is recommended for spring plowing because it is versatile and works well in sandy or clay soils. The VP slatted moldboard is designed for use in extremely sticky muck and clay soils, but is not for us in soils with rocks or stones.
Large Hydraulic Offsetting Adjustment
The large hydraulic offsetting adjustment can be made to the plow offsetting (its angle in relation to the tractor) from the tractor seat by activating one of the hydraulic valve levers. This allows for easy adaptation to all possible tractor inter-wheel distances.
Two-Wheel Undercarriage
The two-wheel undercarriage results in a substantial reduction in the strain put on the tractor arms during turnover. This engineering concept lowers the center of gravity. Turnover is carried out by two-direct acting, horizontal rams with not complex mechanical linkages. This very simple turnover system has a small amount of moving parts, reducing both the risks of wear and possible maintenance requirements. The system comes complete with a hydraulic leveling lock.
Specifications
| | |
| --- | --- |
| Number of bodies | 6 |
| Maximum authorized tractor power (kW) | 132 |
| Maximum Authorized Tractor Power (hp) | 179 |
| Safety | Non Stop Hydraulic |
| Plowing width (inches) | 12 to 20 |
| Under-beam clearance (inches) | 31" / 80 |
| Point-to-point clearance (inches) | 40" / 102 |
| Beam section (inches) | 7" / 180 |
| Type of bodies | Any classic or diamond type bodies |