Kuhn CHALLENGER T - 10 bodies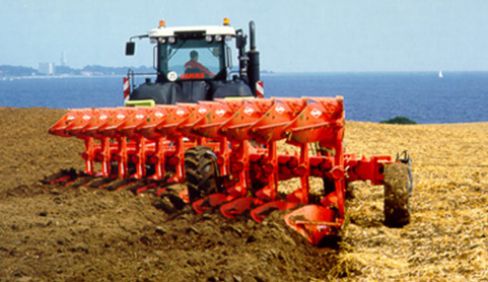 Double tap to zoom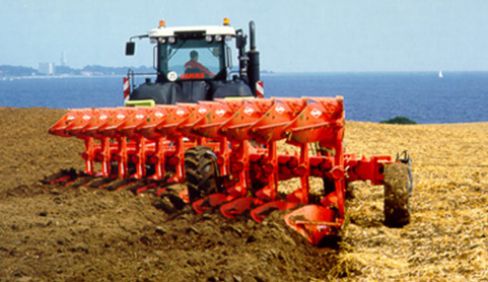 Features
Two-Wheel Undercarriage
The two-wheel undercarriage results in a substantial reduction in the strain put on the tractor arms during turnover. This engineering concept lowers the center of gravity. Turnover is carried out by two-direct acting, horizontal rams with not complex mechanical linkages. This very simple turnover system has a small amount of moving parts, reducing both the risks of wear and possible maintenance requirements. The system comes complete with a hydraulic leveling lock.
On-Land Plowing
On-land plowing offers greater distribution of weight load, lowering compaction to a minimum. Reduced tire wear on rocky ground and extra-wide tires or dual wheels can be used. It is not necessary to disassemble dual wheels for plowing. The Challenger can be easily transformed back to an "in-furrow" plow if wet conditions reduce traction on land. A front-mounted depth wheel is essential when working in the on-land position.
Multiple Working Widths—14", 16" and 18"
Whether a traction bolt model or non-stop hydraulic (NSH), changes in working width to settings of either 14", 16" or 18" are quick and easy to carry out. The width-setting bolt is removed and the plow legs pivot to the desired width. The rear beam angle is changed in the same manner as the articulation joint moves positions corresponding to the required setting width.
Skimmers
Each skimmer is independent of another and firmly held in a sheath-like support. The skimmers are shear bolt protected and are adjustable in three directions. Forward and backward—with a choice of three positions, the sheath bolts to the leg support via countersunk holes to avoid any risk of free play. Up and down—rapid and precise height adjustments (8" of adjustment) with countersunk holes in the skimmer leg for easy locking of the leg for the desired height. Side to side—for correct adjustment in relation to the disc coulter (where fitted).
Moldboards
Moldboards are made of unequal layer, heat-treated Triplex® steel that have an increased working life up to 40% and a hard wearing surface over 1/8" thick. Forged with a force of 6,000 tons ensuring excellent wear resistance and self-sharpening profile due to the grain in the steel resulting from the forging process. Depending on the soil type, Kuhn offers three different types of moldboards. The H4 moldboard is recommended for fall plowing, as it is suited for heavy and damp clays. The N moldboard is recommended for spring plowing because it is versatile and works well in sandy or clay soils. The VP slatted moldboard is designed for use in extremely sticky muck and clay soils, but is not for us in soils with rocks or stones.
Specifications
| | |
| --- | --- |
| Number of bodies | 10 |
| Maximum authorized tractor power (kW) | 260 |
| Maximum Authorized Tractor Power (hp) | 353 |
| Safety | Traction bolt |
| Plowing width (inches) | 14 - 16 and 18 |
| Plowing width (cm) | 35 - 40 and 45 |
| Under-beam clearance (inches) | 2'7"/80 |
| Point-to-point clearance (inches) | 3'4"/102 |
| Beam section (inches) | 7'3"/220 |
| Type of bodies | Any classic or diamond type bodies |