Kuhn MULTI-MASTER 183 T - 6 bodies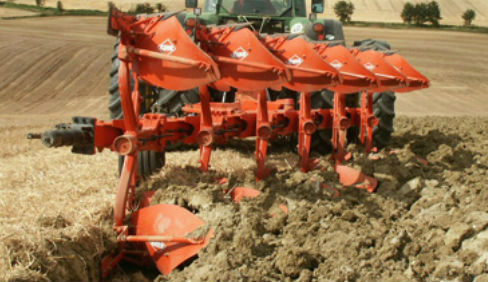 Double tap to zoom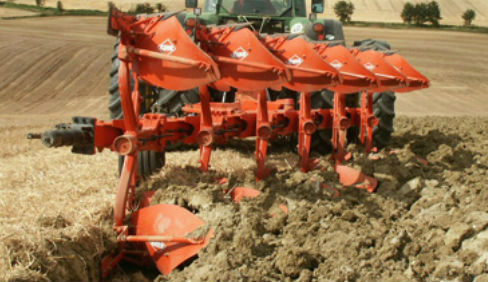 Features
Optidrive Headstock
Trash Burial Options
Trashboard
ZH Skimmer
ZRL Skimmer

The Master 103 Series has three different trash burial options: the trashboard, helicoidal ZH skimmer and the ZRL high-capacity skimmer. The trashboard is ideal for trash burial in difficult conditions where the quantity of trash may otherwise block up the skimmers. The helicoidal skimmer is for deep trash burial and is well adapted to grasslands and fields with cover crops. The ZRL is a high-capacity skimmer for trash incorporation throughout the soil profile and is excellent with straw and corn trash burial.
Reduce Soil Compaction
The on-land range is designed for tractors fitted with wide wheels, tracts and dual wheels. The large dimensioned parallelogram system enables this plow range to adapt to tractors with an overall width of up to 10'5", while at the same time maintaining the possibility to plow in-furrow. Furrow compaction can be avoided by plowing on-land, a concern when using the large tractors needed for this range. <,/p>
Avoid Hydraulic Hose Damage
The turnover shaft is assembled to allow the passage of hydraulic hoses through the center of the headstock, preventing twisting during turnover and possible damage.
Forged and Heat-Treated One-Piece Main Link
Designed for strength and long life, the main link is assembled with steel bushings and the pins locked to prevent rotation.
Moldboards
Moldboards are made of unequal layer, heat-treated Triplex® steel that have an increased working life up to 40% and a hard wearing surface over 1/8" thick. Forged with a force of 6,000 tons ensuring excellent wear resistance and self-sharpening profile due to the grain in the steel resulting from the forging process. Depending on the soil type, Kuhn offers three different types of moldboards. The H4 moldboard is recommended for fall plowing, as it is suited for heavy and damp clays. The N moldboard is recommended for spring plowing because it is versatile and works well in sandy or clay soils. The VP slatted moldboard is designed for use in extremely sticky muck and clay soils, but is not for us in soils with rocks or stones.
Specifications
| | |
| --- | --- |
| Number of bodies | 6 |
| Maximum authorized tractor power (kW) | 243 |
| Maximum Authorized Tractor Power (hp) | 330 |
| Safety | Traction bolt |
| Plowing width (inches) | 14 - 16 - 18 and 20 |
| Under-beam clearance (inches) | 31" / 80 |
| Point-to-point clearance (inches) | 38" / 96 |
| Beam section (inches) | 7" / 180 |
| Type of bodies | Any classic or diamond type bodies |