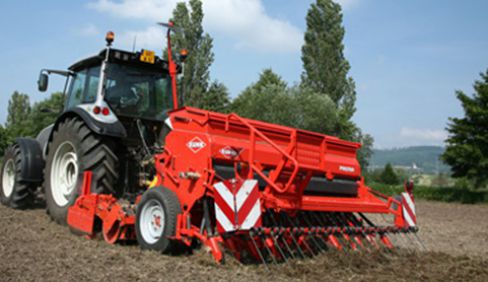 Double tap to zoom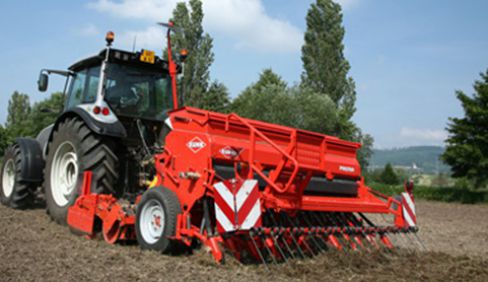 Features
Precise, Versatile Seeding
The volumetric seed metering by fluted rollers with built-in small seed rollers is suitable for all seed sizes and shapes. The helical grooves dose applications rates from 1- 400 lbs/acre. This distribution system is accurate and reliable throughout the whole operation. It provides regular seeding rates and distribution in the row even on slopes or uneven ground and is unaffected by vibrations. The Premia metering system is controlled by the seed drill's two wheels via a 6-cam selector. This ensures reliable control and a regular flow through uniform rotation for small seeds with according low application rates.
Disc or Suffolk Coulters
Disc: The small angle of the disc reduces soil movement to a minimum when moving forward – very appreciable at high speed. Moreover, a cast iron seeding tip, positioned in line with the disc, consolidates the furrow and positions the seed precisely. The disc shape also facilitates penetration into the soil thus ensuring the required seeding depth. Suffolk: The shaped coulters guide the seeds into the ground with great accuracy and work especially well in hard and stony solids. The large distance of 13.85" (34 cm) between the rows limits the risk of clogging. The anti-clogging flap closes the coulter automatically.
Easy Adjustments
In mixed terrain, you can easily increase the hydraulically controlled application rate modulation by 10 or 20% if necessary. The flow test is particularly easy to use. The seed bar tilts via a parallelogram, making a large area available for the collection bucket. Flow rate can be checked with the machine on the ground, or even without being hitched to the tractor. Simply flip a lever for maximum access to carry out the calibration or for emptying the hopper. Afterwards, set the opening by a micrometric screw and carry out the number of turns required.
Well-Designed Hopper
allow for easy loading, the hopper has a wide opening with the cover even opening to more than 90°. That means an easy filling by bucket or big bag. The gas springs facilitate the opening of the cover even on machines which are four meters wide. The bottom of Kuhn seed drill hoppers is V-shaped. This reduces the residual quantity and ensures a uniform metering unit feed. The standard agitator is oscillating, thus handling the seeds with care.
Hector 3000 Control Box
Hector 3000 control box monitors the main seeding functions during work. It also manages pre-emergence marking.
Specifications
Working Width (m)
9'10" (3.00 m)
Hopper capacity approx. (l)
480 (780 with extension)
Filling height approx. (m/ft) without extension
1.25/4'1''
Agitator
Oscillating
Coulter pressure and hopper level indicators
Standard
Linkage
Cat. 2
Wheels
6.00 x 16
Number of Rows
20 or 24
Seed Spacing (cm)
6" (15 cm) or 5" (12.5 cm)
Seed Metering
by grooves with built in small seed groove
(micrometric screw adjustment)
Drive
by two wheels and selector
Seeding Units
Suffolk or single disc coulters
Coulter pressure adjustment
centralized by handle (hydraulic as optional equipment),
topsoiling reinforced behind the wheels
Tractor wheel track eradicators
Optional
Side markers with safety device
 Optional (vertically folding)
Road lights
Optional
Weight approx. with
covering harrow at 12.5 cm
 
Suffolk Coulters
575/1,268
Disc Coulters
665/1,466
Electronic equipment
HECTOR 3000 control box with metering unit drive monitoring;
area, daily and total counters; tramlining control with 2 x 2 rows
Hydraulic equipment
1 single acting valve for the side markers
Optional equipment*: hopper extension for PREMIA 3 and 4 m - half-width shut-off for PREMIA 300 - side markers - pre-emergence markers -
application rate adjustment - hydraulic pressure adjustment of seeding units - set of two tractor track eradicators - set of seed drill wheel track eradicators
- HECTOR 3000 or KLC 10 equipment - loading platform for PREMIA 100 series (required with extension or on disc machine fitted with a press wheel)
- press wheel for single disc - adjustable lower stop - Suffolk coulter depth limiting skid - agitator for rye grass - control levers to shut off more than
2 x 2 rows - pivoting lower links - set of road lights - set of side signalling panels - additional hopper for seeding small seeds – automatic tramlining
position sensor.