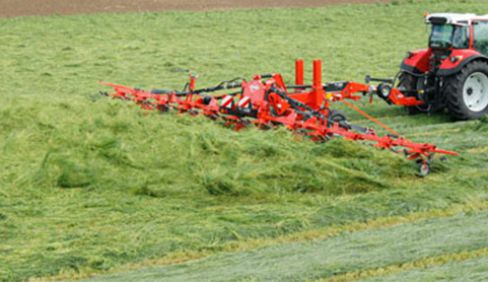 Double tap to zoom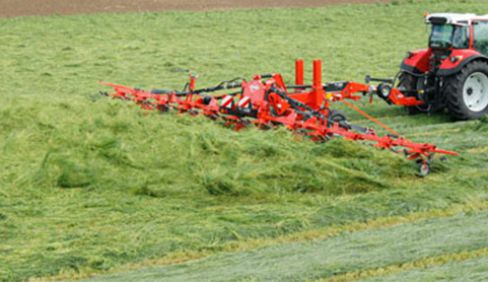 Features
DigiDrive® Couplers
The DigiDrive contains forged steel fingers, case-hardened for improved wear resistance. Synchronization of rotational movement is outstanding both in work and in transport where the components are folded 180° to reduce the machine's space requirement. The DigiDrive is a highly reliable system which requires very little maintenance - daily greasing is not necessary.
Innovative Ground Contouring
Both models come standard with the exclusive GSC system which allows the rotor gear train to swing independently of the carrying frame. Chassis weight is held by the large transport wheels during work. The small-diameter rotors adapt individually to the ground contours and carrying frame, ensuring efficient and fast forage turnover. The wheels, located as close as possible to the tines, limit impurities and ensure long life of the tines.
Designed for Transport
With a dedicated transport axle, rough roads or long distances are no longer a problem. Rotors are not subject to transport shock, there is excellent weight distribution and transport is safe and stable even at high speeds. The two outer sections are held in place by straps. They are used to reduce stress on the main frame and rotor structures. This allows fastening to the rotor ends, keeping the two sections stable without any oscillation. The straps also double as safety guards, replacing the traditional metal guards. When folding for transport, the two straps automatically wind up like a seat belt.
Easy Adjustments
The tedding height and angle of the tines above the ground is easy to adjust from a single point. The operator can change the height and angle as required to match the field conditions.
Small-Diameter Rotors
For those whose goal is to harvest the highest quality crop there are many advantages: work with a wide angle of attack while turning all of the crop, fast and uniform drying, completer crop inversion, unequalled crop distribution uniformity, exceptional ground adaptation, minimum distance to the center of gravity on mounted tedders for reduced lift requirements and reduced horsepower requirements.
Specifications
| | |
| --- | --- |
| Working width DIN (m) | 13 |
| Working width DIN (feet) | 42'8" |
| Transport width (m) | 2.4 |
| Transport width (feet) | 7'11" |
| Number of rotors | 12 |
| Number of tine arms per rotor | 6 |
| Linkage | Trailed |
| Tire type | Super balloons 16 x 6 50 - 8 |
| Drive | DIGIDRIVE®multiple coupling fingers |
| Weight approx. (kg) | 2550 |
| Weight (lb) | 5622 |