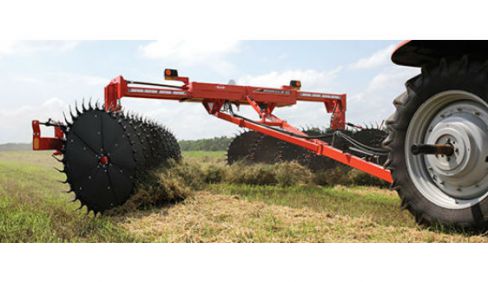 Double tap to zoom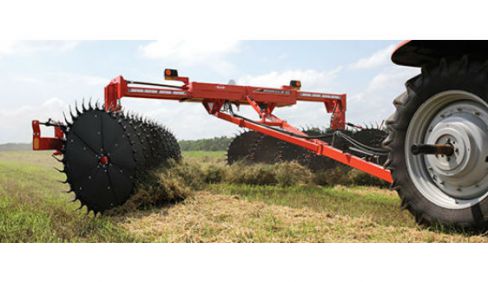 Features
Heavy-Duty Frame with 60" Rake Wheels
The extendable frame is built with heavy-duty components to ensure a long service life when running in rough field conditions and over pivot tracks.
Ground Pressure Adjustment
The single-point, adjustable, toolless stop on the right and left sides increases or decreases the machine's ground pressure. It also puts the operator in control to adjust the ground pressure, based on crop volume and conditions, to incorporate less dirt and ash into the windrow.
Expandable Design
Operators can easily expand the rake beam from 17 to 19 wheels to achieve a wider working width in the field.
Standard Tandem Axle and Windguards
Tandem axles improve performance in difficult field and crop conditions. The windguards provide notable raking performance benefits, helping ensure a smoother crop flow and a more uniform windrow than wheel rakes without windguards.
Rake Wheel Angle
All of the rake wheels are angled 8.7° allowing the crop to be lifted off of the ground and flow easily from wheel to wheel to create a uniform, fluffy windrow.
Specifications
| | |
| --- | --- |
| Rake Type | Heavy-Duty Wheel Rake |
| Working width (feet) | 27 |
| Working width (m) | 8.2 |
| Minimum Windrow Width (feet) | 4' |
| Maximum Windrow Width (feet) | 6' |
| Minimum Windrow Width (cm) | 120 |
| Maximum Windrow Width (cm) | 200 |
| Swath delivery | Central - Opt. Windrow Turning |
| Number of Raking Wheels | 17 |
| Raking Wheel Diameter (m) | 1.5 |
| Raking Wheel Diameter (feet) | 5' |
| Tire type | 9.5L-15. 8-ply rating |
| Transport width (m) | 3.8 |
| Transport width (feet) | 12'4" |
| Transport length (feet) | 28'3" |
| Minimum power requirement for PTO (kW) | 60 |
| Minimum power requirement for PTO (hp) | 80 |
| Weight (kg) | 2799 |
| Weight (lb) | 6170 |