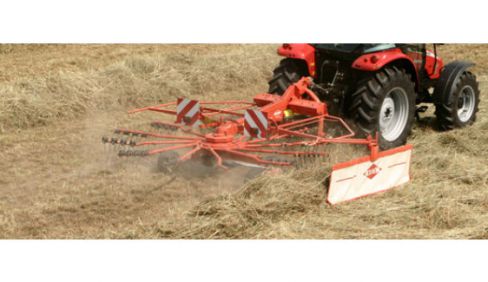 Double tap to zoom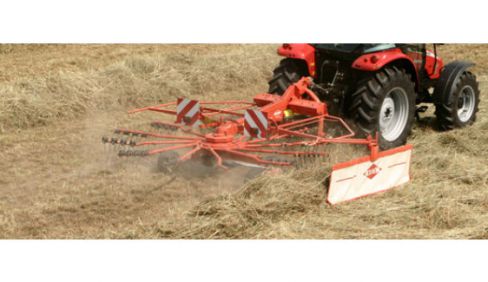 Features
Consistent Raking Quality
The rotary rake will gently create fluffy, airy windrows without roping for faster drying. The left guard and right windrow deflector can be easily raised and lowered with the assistance of the convenient spring design. The tine arms can also be removed for narrow road transport.
Outstanding Raking Performance
The greater number of tine arms allows you to work at higher speeds while maintaining a slower rotor speed. This helps ensure that the crop is raked both cleanly and gently. The double-curved tine arm design increases capacity and enables optimum raking quality. The result is well-formed, airy windrows that decrease drying time and improve harvest efficiency.
Maximum Operator Efficiency
For maximum operator efficiency and comfort, right-hand delivery is ideal. All Kuhn single-rotor rakes above a 13' working width feature right-hand delivery as standard due to the double-reduction gearbox. You can monitor raking quality and make adjustments at the same time with both the windrow and tractor controls conveniently located on your right side.
Increased Durability and Reliability
This fully enclosed gearbox incorporates a two-stage reduction drive for increased durability and reliability with a longer service life. It also provides improved power transmission for maximum efficiency.
Specifications
| | |
| --- | --- |
| Number of rotors | 1 |
| Working width (inches) | 13'9" |
| Working width (m) | 4.2 |
| Number of tine arms per rotor | 12 |
| Number of tines per arm | 4 |
| Linkage | 3-point - Cat. 1 + 2 |
| Minimum power requirement for PTO (kW) | 30 |
| Minimum power requirement for PTO (hp) | 22 |
| Weight (kg) | 702 |
| Weight (lb) | 1547 |
| Suspension | 9'7" |
| Clean swept width | 2.9 |
| Clean swept width (m) | 11'4" |
| Rotor diameter | 3.5 |
| Rotor diameter (m) | 6'4" |
| Transport width - arms removed | 1.95 |