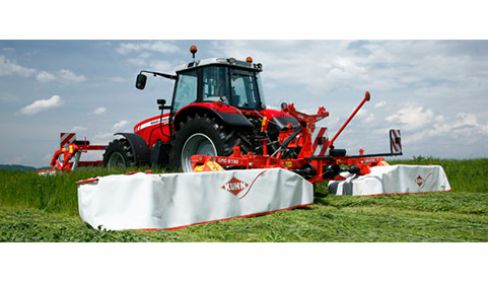 Double tap to zoom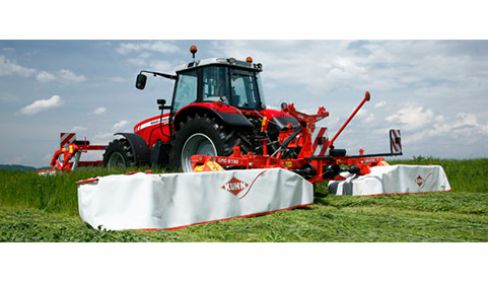 Features
Lubed-for-Life Optidisc® Cutterbar
The Lubed-for-Life Optidisc Cutterbar is a heavy-duty cutterbar with a bolt-through design to handle the toughest conditions and a low, smooth profile with reversible discs and knives. The use of synthetic oil, combined with machined and polished gears, eliminates the need for routine oil changes. The innovative design offers exclusive differential disc spacing. Narrower spacing at diverging discs provides greater knife overlap for cleaner cutting in difficult conditions. Wider spacing at converging discs provides less knife overlap for greater capacity and higher crop throughput.
Fast-Fit® Blade Retention System
The GMD 8730 can be equipped with Kuhn's Fast-Fit quick-release, blade-mount system. The Fast-Fit blade has a leaf spring that applies constant pressure to the blade retainer. The bald retaining pins are also equipped with a shoulder to provide an additional level of security. The leaf spring can only be depressed to remove the blade at one point, while the blade is centered over the shoe. When the disc is rotating, it is not possible for the blade to be released.
Lift-Control®
The Lift-Control feature allows for adjustment of ground pressure to match field conditions is quick and easy. The use of folding cylinders and nitrogen accumulators to hydraulically adjust ground pressure results in precise control and eliminates the need for springs that are often found on competitive models.
Non-Stop Safety Release
No one can afford to damage their mower during the peak hay season because of a forgotten or unnoticed obstacle. With the active non-stop breakaway, the mowing head will pivot up to 25 degrees to the rear. At the same time, the mowing head will lift to clear the obstruction and then automatically reset to the original mowing position. There is no need to stop and reverse to reset the mower.
Three Overlap Settings
Quick adjustment of the cutterbar position on each mowing head allows the operator to match the mowing width to the working conditions. This provides ample overlap to prevent skipping crop (such as when mowing on steep hillsides).
Specifications
| | |
| --- | --- |
| Working width (feet) | 28'7" / 27'7" / 26'9" (depending on overlap chosen) |
| Cutterbars | OPTIDISC® |
| Number of discs with protecting skids | 2 x 7 |
| Transport width (feet) | 9'9" |
| Swath width (m) | 2 x 2.40 |
| Swath width (m) | 2.4 |
| PTO speed (rpm) | 1000 |
| Setting to transport position | Hydraulic vertical folding |
| Transport width (m) | 2.99 |
| Safety break-back | Combined Lift-Control and Non-stop safety |
| Weight (kg) | 1760 |
| Weight (lb) | 3.924 |
| Minimum power requirement for PTO (kW) | 88 |
| Minimum power requirement for PTO (hp) | 120 |
| Tractor hydraulic equipment | 1 DA + 1SA for the combination |