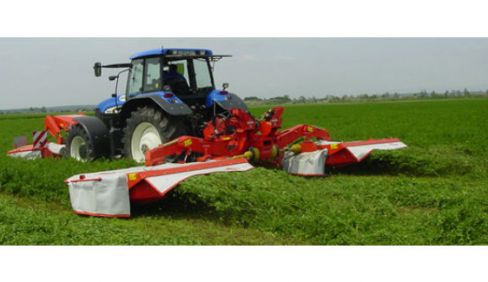 Double tap to zoom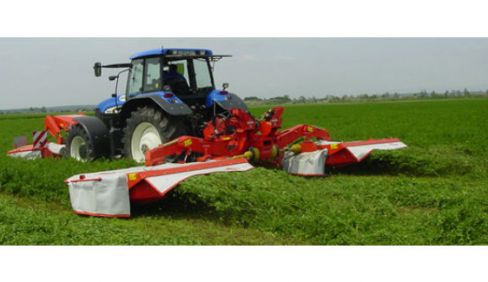 Features
Cutterbar and Discs
The smooth and low profiled cutterbar with oval discs provide a clean and efficient cut. Cutting height can be controlled for less crop contamination and better control of stubble height for future yield increase. Helical shaped knives are made from high-quality steel.
Removable Protectadrive™ Disc Bearing Stations
The disc bearing stations can be removed and mounted quickly easily. Any needed repairs can be carried out at reduced costs from the outside with minimal downtime. The Protectadrive also provides total safety in case an obstacle is struck meaning the threaded pins of the disc housings are solidly linked to the upper half casing. There is no weak point or risk that they could be ripped out.
Lift-Control
The exclusive Lift-Control suspension, with its clever design, combines ground pressure reduction of the mowing unit with break-away safety. Additionally, uniform weight distribution over the entire working width is achieved by the central pendulum articulation of the mowing unit.
The results provide the operator with perfect ground adaptation, a cleaner crop and considerable cost savings due to fewer repairs, less wear and reduced fuel consumption.
Active Non-Stop Breakaway
No one can afford to damage their mower during the peak hay season because of a forgotten or unnoticed obstacle. The mowing head will pivot up to 25° to the rear. At the same time, the mowing head will lift to clear the obstruction and then automatically reset to the original mowing position. There is no need to stop and reverse to reset the mower.
Pendulum Type Articulation
The pendulum type articulation provides constant pressure over the whole mowing unit including on uneven ground. The articulation provides good machine stability and excellent ground following even at high speeds. Two additional benefits of this type of articulation are crop stubble preservation and the ability to reduce soil contamination.
Specifications
| | |
| --- | --- |
| Working width (m) | 8.1 |
| Working width (inches) | 26'7" |
| Transport width (m) | 3 |
| Transport width (feet) | 9'10" |
| Number of discs with protecting skids | 2 x 7 |
| PTO speed (rpm) | 1000 |
| Conditioning | With V-shaped nylon fingers or pivoting steel fingers. adjustable flap and comb or rollers |
| Twin swath width (feet) | 4'3" to 8'2" |
| Twin swath width (m) | between 1,3 and 2,5 |
| Conditioning rotor speed (rpm) | 615/888 |
| Weight approx. (kg) | 2835 |
| Weight (lb) | 6250 |
| Minimum power requirement for PTO (kW) | 125 |
| Minimum power requirement for PTO (hp) | 170 |
| Tractor hydraulic equipment | 2 DA + 1 SA |