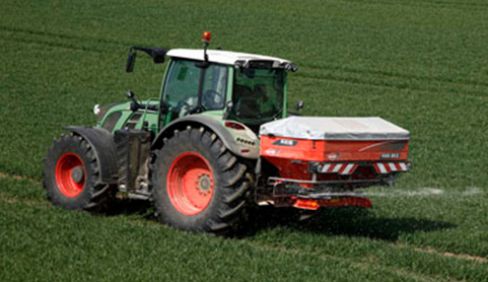 Double tap to zoom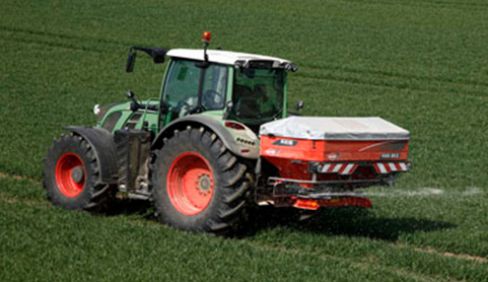 Features
CDA: Unrivaled Accuracy
There are two important features that make the CDA (Coaxial Distribution Adjustment®) system unique: The pivoting hopper base enables quick adaptation to various fertilizers and working widths by adjusting the drop point of the fertilizer onto the spreading discs. Specially designed metering outlets close to the center of the discs allow multiple supply points to the paddles. This helps ensure constant fertilizer flow and an even spread pattern.
Variable Rate Capability
This feature allows a farmer to tailor application rates by providing the soil with the most accurate amount of nutrients possible to create a flourishing crop while saving a significant amount of fertilizer.
Gentle Agitator
The simple, mechanical drive allows for a consistent agitator speed of 17 RPM. Slow, stepped agitation prevents fertilizer granule damage and powder formation
Direct Flow Control (DFC) System
With this system, machine setup is easy by using the spreading chart settings. By removing the discs and fitting the chute, a flow test can be conducted to help determine the best position for the product to be spread to minimize overspread and maximize efficiency.
Ultra-Low Application Rates
This machine is all about maximizing efficiency and with ultra-low application rates, it will spread out the savings both in and outside of the field. With low application rates and travel speeds having no negative effect on fertilizer distribution, the Axis is the machine of choice to get your field the nutrients it needs!
Specifications
| | |
| --- | --- |
| Max. effective load (kg) | 3205 |
| Outlet shutter control | Electric cylinders |
| Working width (feet) | 39' - 138' |
| Working width (m) | between 12 and 42 |
| Capacity (min.) (cu.ft.) | 49 |
| Capacity (min.) (l) | 1400 |
| Capacity (max.) (cu.ft.) | 112 |
| Capacity (max.) (l) | 3100 |
| Max. effective load (lb) | 7050 |
| Weight approx. (kg) | 330 |
| Weight approx. (lb) | 725 |
| Drive | PTO |
| Application rate control | Electronic speed matching |
| Application (kg/ha) | 3 kg/ha - 500 kg/ha |
| Application lb/acre. | 2.7 lbs/acre - 446 lbs/acre |
| Working width adjustment | Manual |