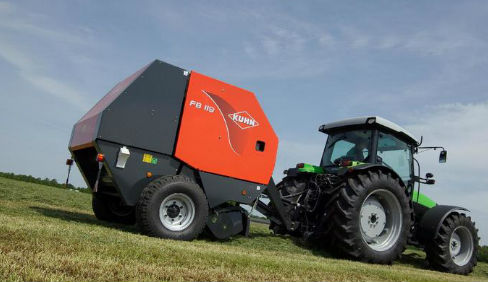 Double tap to zoom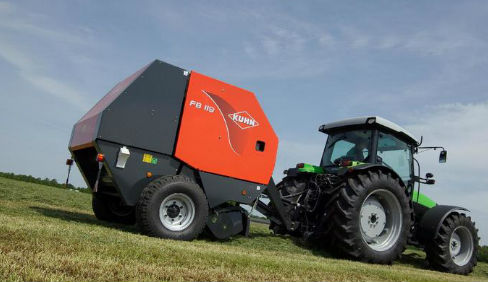 Features
Open Throat
The open throat intake has an unrestricted intake unit for maximum capacity in all crop conditions. There are no stuffer fingers which can disturb the flow and therefore limit the intake capacity. This generates a huge output potential and low fuel consumption resulting in peak output and performance.
PowerTrack
The 14 steel rollers with an asymmetrical profile ensure a reliable bale rotation without stoppages. The PowerTrack rollers start to rotate the core of the bale as fast as possible to ensure maximum compression.
PowerLock
Strong rear door hydraulic cylinders work in combination with a hydraulic lock valve to produce maximum bale density. The accumulator levels off peak loads on the rear door and automatically protects for overloading. For those who need diverse bale densities the pressure can be manually set to a maximum of 2,466 PSI.
Heavy-Duty Driveline
The FB 2130 has an automatic cam clutch protection on the PTO drive shaft. KUHN only uses high-quality, heavy-duty chains with hardened sprockets. Each roller has heavy-duty bearings and are bolted onto the side walls of the bale chamber for easy access and maintenance.
Binding Systems
The FB 119 and 2130 fixed chamber balers come equipped with your choice of twine or net binding. By use of the double twine binding system the binding cycle time is reduced to a minimum. The net-only binding provides the bale with a clean and tidy net wrap from edge to edge.
Specifications
| | |
| --- | --- |
| Bale Chamber | 14 PowerTrack Rollers |
| Bale dimensions width x height (in) | 48" x 49" |
| Pickup intake width (in) | 66" |
| Number of tine bars | 4 |
| Binding | Twine or Net |
| Intake system | OpenThroat |
| Control system | AT-10 |
| Minimum power requirement for PTO (hp) | 68 |
| Unloaded weight (lbs) | 4300 |