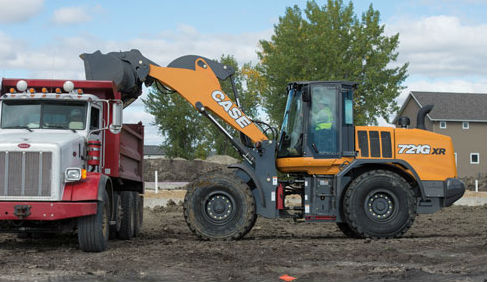 Double tap to zoom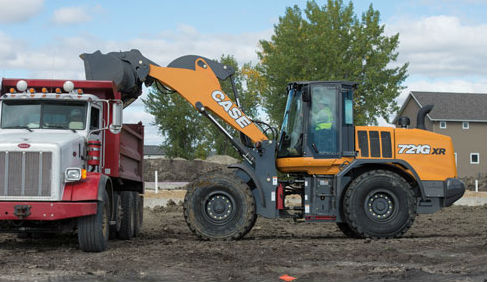 Features
Productivity 
From utility work and worksite operations to heavy production applications, much is demanded of loaders in this size class. That's why CASE G Series loaders are built for heavy work and designed to do it efficiently. Heavy-duty axle options, an optional 5-speed transmission, ride control, and automated bucket controls such as return-to-dig, return-to-travel and height control all help achieve optimal cycle times and productivity. Four power modes help further dial in speed and power, and an electro-hydraulic, load sensing hydraulic system allows for improved functionality and precise bucket and loader functions. And with an SCR emissions solution, these models offer no downtime related to regeneration.


Fuel Efficiency 
CASE was the first to employ SCR technology in heavy earthmoving equipment – and G Series wheel loaders are the second generation of CASE wheel loaders to benefit from the fuel efficiency and cooler operating temperatures, which often compares to alternative solutions with diesel particulate filters (DPFs). No regeneration, no recirculation of exhaust gasses, no temperature spikes to burn off particulate – all ensuring a greater percentage of fuel use is put toward productive work. Matched with load sensing hydraulics that ensure the machine is only working as hard as it needs to, and operating modes such as ECO that provide greater fuel efficiency, and the G Series promises to be among the most powerful and fuel efficient wheel loaders on the market.


Comfort and Visibility 
The cab and operating environment of the G Series have been completely re-engineered to provide optimal operator performance, ergonomics and engagement with both the controls and the surrounding jobsite. Just look at the cab – it's been designed to optimally accommodate a broad range of operator sizes. A new 8" LCD monitor provides the operator with simple control and greater insight over many loader functions and activities. The latest in electro-hydraulic controls, numerous seat and adjustability options, and an all-new membrane keypad further simplify operation and training. A new, one-piece rounded windshield and optimally placed mirrors, along with a rearview camera that feeds the new monitor, ensures full 360° visibility. An entirely new HVAC system ensures operators stay comfortable regardless of where they work.


Serviceability 
CASE G Series loaders offer a number of service-related features that help extend service life of the machine, lower operating costs and improve overall serviceability. The CASE-exclusive mid-mounted cooling module ensures access to clean and cool ambient air to keep all operating components cool, while also limiting debris buildup and providing easy access for routine cleaning. For applications with extreme amounts of airborne debris, CASE offers a heavy debris cooling system. This includes enhanced sealing of the cooling module covers and wider cooler fin spacing to better maintain the optimum operating temperatures of mechanical and hydraulic systems.
This unique design allows the engine to be pushed lower and towards the rear of the machine, improving balance and stability, but also placing all routine service and maintenance items within easy reach of the ground. Factor in CASE ProCare, and owners can more accurately predict all owning and operating costs for the first three years of ownership while getting all parts and labor provided by CASE in partnership with the local dealer.
Specifications
OPERATOR ENVIRONMENT
ROPS cab AC w/ heat
Key start
Articulated power steering w/ tilt column
Fully adjustable, suspension seat
Foot throttle
Single lever loader control w/ fully adjustable wrist rest, 2 cup holders
2 interior rear view mirrors
2 in (51 mm) retractable seat belt
Multiple storage trays
Single brake pedal
F/N/R shuttle switch
External rearview mirrors
Pressurized air filtering
Anti-glare window strip
Front and Rear Defroster
Side window, partial/fully open
2 Dome lights
Wipers, rear and intermittent front
Windshield washers, front and rear
Rubber floor mat
Horn
Dispays/Gauges: Digital: Transmission oil temperature, Engine coolant temperature, Fuel level, DEF level
LCD screen: Hour meter, Time, FNR indicator, Trip computer, Differential lock, Engine speed, Automatic transmission indicator, DeClutch indicator, Fuel consumption, Engine diagnostics, Error reporting, Travel speed, Gear selection, Engine mode indicator, Transmission diagnostics, DEF – Diesel Exhaust Fluid gauge
Audible/Visual alarms:
Warning lights: Parking brake, Coolant temperature, Hydraulic oil temperature, Transmission oil temperature, Air filter, Transmission filter, Alternator, Low fuel;, Grid heater*, Brake pressure, Engine oil pressure, Steering pressure.
Caution warnings: Parking brake, Coolant temperature, Hydraulic oil temperature, Transmission oil temperature, Air filter, Transmission filter, Hydraulic filter, Alternator, Low fuel
Critical warnings: Engine oil pressure, Brake pressure, Steering pressure - w/ aux. steering*, Coolant temperature, Hydraulic oil temperature, Transmission oil temperature
Backup alarm
Maintenance reminders: Cab air filter, Engine oil filter, Fuel pre-filter, DEF tank vent filter
SCR supply filter, Hydraulic oil and filter, Engine air filter, Engine coolant drive belt, Cab recirculation filter, Engine breather filter, Transmission breather, Front and rear axle fluid, SCR supply module filter
NOTE: *If equipped w/ option""
ENGINE
Case/FPT F4HFE613T
Tier 4 Final Certified
Selectable work modes:
Maximum Power
Standard Power
Economy Power
Auto Power
Turbocharger
Charge air cooling
Automatic belt tensioner
Integral engine oil cooling
Fuel filter with water trap
Dual-element dry-type air cleaner
Hydraulic-driven cooling fan
Air-cooled radiator
Mid-mounted cooling module
Common rail electronic fuel injection
LOADER
Z-Bar loader linkage
Single control for lift and tilt
Positive hold float
Automatic return-to-dig
Automatic height control
Automatic return-to-travel
Brake pedal transmission disconnect
Bucket position indicator on bucket
DRIVETRAIN
4-wheel drive
4F/3R Selectable autoshift /manual shift transmission
Electronic Control Module – programmable, computer controlled proportional shifting with programmable gear selection
Onboard diagnostics
Single lever electronic shift control
F/N/R switch in loader control handle
Downshift button
Torque converter
Limited-slip differentials
Heavy-duty axles – XT/XR
Outboard planetary axles
Transmission oil cooler
Brake pedal transmission disconnect – declutch
Hydraulic wet disc brakes
Spring-applied hydraulic release parking brake
Limp-Home Mode
Greasable rear axle trunnion
3-piece rims
HYDRAULICS
Electro-hydraulic (EH) joystick loader control
Low-effort steering
Hydraulic driven cooling fan
Diagnostic quick couplers
Split flange hydraulic connections – 1 in or greater
ELECTRICAL
Alternator and voltage regulator
Battery isolator/electrical disconnect
120 amp alternator
(2) 700 CCA 12-volt batteries
Electric starter
Lights:
2 Front and 2 rear halogen flood lights
2 Front driving headlights – high/ low beam with integrated turn signals
2 LED stop/ tail lights with integrated turn signals
Key start /stop switch
Backup alarm
Centrally located fuse box with all electrical circuits protected
Remote jump start posts
OTHER
Electric hood lift
Front and rear fenders, partial coverage
Heavy counterweight
Drawbar hitch
Articulation locking bar
Lift arm locking bar
Lift and tie-down points – front /rear
Remote drain points
Grouped remote-mounted ecology drains:
Engine oil
Engine coolant
Hydraulic oil