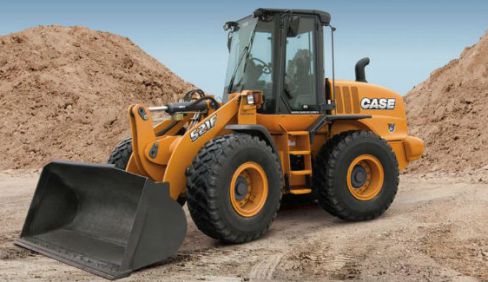 Double tap to zoom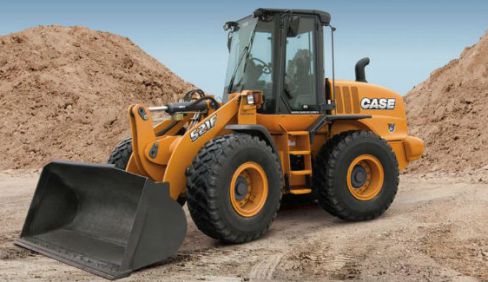 Features
Productivity
A powerful-and-efficient 4.5-liter Tier 4 Final engine delivers maximum power for different work modes, along with quick throttle response and massive torque. Operators can match engine output to the task at hand with four programmable power modes. The 521F is also available with XR (Extended Reach) linkage for a greater dump height and versatility and a XT (Tool Carrier/Parallel Linkage) for maximum utility, excellent visibility and parallel lift.


Fuel Efficiency
Because of idle-heavy applications and variable power demands, SCR (Selective Catalytic Reduction) Tier 4 Final technology is a superior choice for a mid-sized wheel loader. As an after-treatment system, SCR lets the engine run at peak performance, which provides faster throttle response while also maintaining lower temperatures and delivering up to 20% better fuel efficiency over other solutions. Economy is optimized even further with auto-idle and auto-shutdown features. Plus, SCR is simple. No Diesel Particulate Filter regeneration or replacement. No extra downtime. No extreme temperature spikes. Just pour a little DEF (Diesel Exhaust Fluid) when refueling and go.


Comfort and Visibility
The 521F offers one of the industry's quietest and most spacious cabs with class-leading visibility thanks to floor-to-ceiling windows, a low rear hood and an optional rear-view camera. Our ergonomic, state-of-the-art joystick steering helps reduce operator fatigue while an ISO-mount cab design, dual air filtration system and optional heated air-ride seat help provide daylong comfort.


Serviceability
Routine maintenance is a breeze thanks to the mid-mounted cooling cube, ground-level fluid gauges and a tilt-up rear hood that provides complete engine access.
Specifications
OPERATOR ENVIRONMENT
ROPS cab w/ heat
Key start
Articulated power steering w/ tilt column
Fully adjustable, suspension seat
Foot throttle
Single lever loader control w/ wrist rest
Cup holder
Coat hook
1 Interior rearview mirror
2 in (51 mm) retractable seat belt
Storage tray behind seat
Cooled lunch box
Single brake pedal
F/N/R shuttle switch
External rearview mirrors
Lock box
Pressurized air filtering
Anti-glare window strip
Defroster
Side window, partial/fully open
Dome light
Wipers, rear and intermittent front
Windshield washers, front and rear
Rubber floor mat
Electronic Information Center
Horn
LCD screen: Hour meter, Time, FNR indicator, Trip computer, Differential lock, Engine speed, Automatic transmission indicator, DeClutch indicator, Fuel consumption, Engine diagnostics, Error reporting, Travel speed, Gear selection, Engine mode indicator, Transmission diagnostics, DEF – Diesel Exhaust Fluid gauge Audible/Visual alarms:
Warning lights: Parking brake, Coolant temperature, Hydraulic oil temperature, Transmission oil temperature, Air filter, Transmission filter, Alternator, Low fuel;, Grid heater*, Brake pressure, Engine oil pressure, Steering pressure.
Caution alarm
Critical alarm
Backup alarm
NOTE: *If equipped w/ option
ENGINE
FPT F4HFE413J
Tier 4 Final Certified
Selectable work modes: Maximum power, Auto power, Standard power, Economy power
Turbocharger
Charge air cooling
Automatic fan belt tensioner
Integral engine oil cooling
Fuel filter with water trap
Dual-element air cleaner
Liquid-cooled radiator
Non spark-arresting muffler
Mid-mounted cooling module
Common rail electronic fuel injection
LOADER
Z-Bar loader linkage
Single control for lift and tilt
Positive hold float
Automatic return-to-dig
Automatic height control
Automatic return-to-travel
Brake pedal transmission disconnect
Bucket position indicator on bucket
DRIVETRAIN
4-wheel drive
4F/3R Selectable autoshift/manual shift transmission
Electronic Control Module – programmable, computer controlled proportional shifting with programmable gear selection
Onboard diagnostics
Single lever electronic shift control
F/N/R switch in loader control handle
Downshift button
Torque converter
Outboard planetary axles
Limited-slip differentials
Transmission oil cooler
Brake pedal transmission disconnect
Hydraulic wet disc brakes
Spring-applied hydraulic release parking brake
Limp-Home Mode
Lubed-for-life drive shaft
HYDRAULICS
Single lever 2-spool loader control valve
Low-effort steering
Hydraulic driven fan
8 Diagnostic quick couplers
ELECTRICAL
70 amp alternator
(2) 700 CCA 12-volt batteries
Lights: 2 Front driving headlights – high/low beam, 2 Front flood, 2 LED stop and tail lights * 2 Rear flood, Front and rear turn signal/flash
Backup alarm
OTHER
Front and rear fenders
Standard counterweight
Drawbar hitch
Articulation locking bar
Lift arm locking bar
Lift and tie-down points – front/rear
Remote drain points