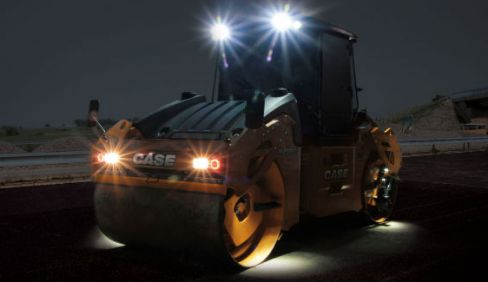 Double tap to zoom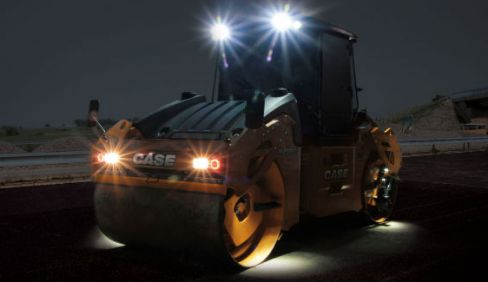 Features
Productivity
Compact on a variety of surfaces with the optional high-frequency vibration system; whether thinner lifts or faster speeds are desired, this option will increase the roller's versatility. Productivity is maximized on coarse bases, hot-mix asphalt surfaces or recycled hot-mix asphalt with the standard high centrifugal forces and dual amplitudes. Surface damage is minimized while delivering smooth pavement with the automatic vibration control.


Fuel Efficiency
A maintenance-free Tier 4 Interim engine provides the power and efficiency you need without requiring a DPF (Diesel Particulate Filter) or additional fluids such as DEF (Diesel Exhaust Fluid).


Comfort and Visibility
A comfortable, ISO-mounted operator's platform offers a wide-open, four-post canopy and a seat that slides and rotates further than previous models, allowing the operator to get closer to the platform edge and providing superior sight lines to both drums. A 360° illumination option includes additional lighting along the drum edge for improved visibility at night.


Controllability
The intuitive control console has been integrated into the center of the steering wheel. This state-of-the-art digital display puts real-time diagnostic information and precise controls right at your fingertips, regardless of where you're positioned in the operator's platform. This display also helps improve visibility by doing away with the front console.


Serviceability
The engine has been relocated under the operator platform, which offers large, tool-free swing-out doors on either side. This provides quick-and-easy ground-level access to daily checkpoints and service items.
Specifications
Fixed ROPS / FOPS Canopy
Articulated chassis
Deutz TCD 3.6 L4/Tier 4 interim engine
Hydrostatic drive for both drums
Vulcollon drum scrapers (fixed)
Machined tapered drum edges
Vertical lift hood
Spin on fuel, engine oil and hydraulic filters
Master disconnect switch
4-point lift and tie down provision
Worklights with turn signals
Back-up alarm
Brake release
Drum offset – crab steer
Operator's compartment
ISO-mounted operator's platform
Multi-position shifting suspension seat w/ foldable armrests
Adjustable steering column
Single lever speed and direction control with vibration on /off control
Speed selector
Smooth start and stop
Return to center (offset)
Vandal protection
Handrails
Tool box
2 in. retractable seat-belt
Emergency stop button
Seat safety switch
Instrument Panel
Intelligent intergrated display screen
Ignition lockout
Hour meter
Throttle control
Manual or auto vibration control
Water tank level
Fuel tank level
Vibration frequency
Sprinkler intensity
Indicator Lights
Battery
Coolant level
Engine temperature warning
Air filter
Hydraulic filter
Hydraulic oil level
Parking brake
Fuel filter
Sprinkler on/off
Monitor Display Panel
Engine RPM
Engine hours
Fuel rate
System voltage
% engine load at current RPM
Coolant temperature
Oil pressure
Fuel economy
Current fuel consumption
Active service codes
Water System
Pressurized water system
Dual fill port water tank
3-stage water filtration
Water system on/off
Water system drain
Adjustable sprinkler volume control
Vibration System
Front and dual drum vibration control modes
Auto vibration stop in neutral
Dual-mode vibratory system