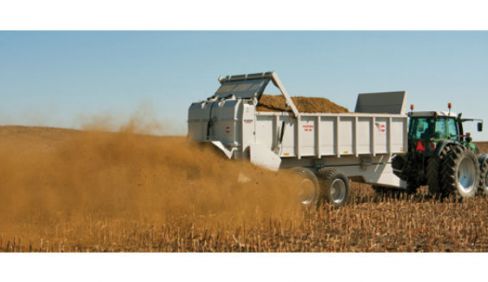 Double tap to zoom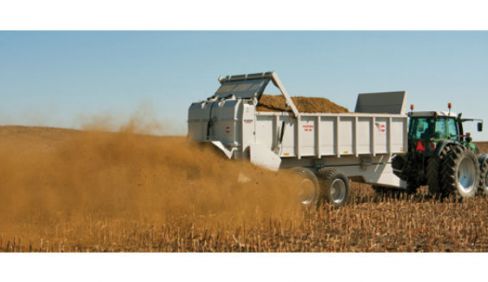 Features
Multiple Beater Options
Multiple discharge options can be ordered and easily changed for different applications.
Horizontal Beaters:
Horizontal beaters are most effectively used in spreading applications with dry, course materials such as pen pack or yard scrapings. They work well in situations where fast unloading and high application rates are desired.
VertiSpread Beaters:
VertiSpread vertical beaters provide a consistent, wide, 25-30 foot spread pattern. These beaters provide quality spreading performance for a wider variety of dry materials, from tough materials like pen pack to finer materials like dry dirt compost. They provide the same fast unloading and high application rates as horizontal beaters, but with a wider spread pattern and more consistent material breakup.

AccuSpread Spinner Discharge:
The AccuSpread spinner discharge option provides the most uniform spread pattern available with a spread width up to 40-50 feet. It allows accurate metering and provides the ability to consistently spread dry, flowable materials at low rates.
Variable Discharge Control
The hydraulic drive minimizes moving parts and allows independent operation of the beaters and apron. The variable speed allows controlled and even spreading of many different types of solid material.
Optional Scale System
The optional scale system allows monitoring and adjustment of application rates to take maximum advantage of your manure nutrients and to help save on fertilizer costs.
Multi-Purpose Spreader or Silage Box
The silage kit includes an endgate and steel side extensions, allowing the operator to quickly convert the spreader to a live-bottom silage box for unmatched versatility. The apron speed-up kit can be used in conjunction with the silage kit to provide a faster apron speed for quicker unloading in silage hauling applications.
Solid Components and Sturdy Construction
All-Steel, Welded Construction
The all-steel, welded construction provides a solid framework, which includes a rigid A-frame to keep the sides and beater panels aligned for strong box integrity. The lower side and frame overlap provides added strength and double protection against rust-through.


Friction-Resistant Poly Floor
The high-density, two-piece, solid poly floor reduces friction and horsepower requirements to provide long life and eliminate corrosion concerns.

Heavy-Duty Undercarriage
The independent running gear provides a solid foundation to haul the heaviest loads. The heavy-duty tandem axle and high-floatation tires work together to provide additional strength and durability and also help limit soil compaction.

Innovative Split-Apron Drive
Each apron has a separate drive shaft, powered from either end by the durable, efficient parallel-shaft gearbox. This allows equal loads on the chains, resulting in even pulling for dependability and long life. The heavy-duty, double-apron pintle chain has high-tensile strength to pull the heaviest material with little worry about breakage.
Specifications
| | |
| --- | --- |
| Capacity - no extensions (m3) | 20 |
| Capacity - no extensions (cu.ft) | 710 |
| PTO speed (rpm) | 1000 |
| Overall tread width (cm) | 270 |
| Overall tread width (in) | 108 |
| Overall height - w/horizontal beaters (m) | 3 |
| Overall height - w/horizontal beaters (in) | 117 |
| Overall height - w/vertical beaters (m) | 3.7 |
| Overall height - w/vertical beaters (in) | 144 |
| Spinner beater diameter (in) | 41 |
| Spinner beater diameter (m) | 104 |
| Overall length - w/ spinner beaters (m) | 9.1 |
| Overall length - w/ spinner beaters (in) | 358 |
| Overall height - w/ spinner beaters (in) | 138 |
| Overall height - w/ spinner beaters (m) | 3.5 |
| Overall length - w/vertical beaters (m) | 9.2 |
| Overall length - w/vertical beaters (in) | 362 |
| Overall length - w/horizontal beaters (m) | 8.7 |
| Overall length - w/horizontal beaters (in) | 344 |
| Maximum load (kg) | 20865 |
| Maximum load (lb) | 46000 |
| Minimum power requirement for PTO (kW) | 142 |
| Minimum power requirement for PTO (hp) | 190 |
| Beaters - number standard | 2 |
| Horizontal beater diameter (cm) | 51 |
| Horizontal beater diameter (in) | 20 |
| Vertical beater diameter (cm) | 103 |
| Vertical beater diameter (in) | 40.5 |
| Removeable beater assembly | Yes |
| Loading height (cm) | 284 |
| Loading height (in) | 112 |