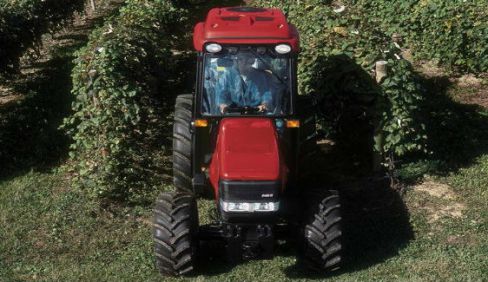 Double tap to zoom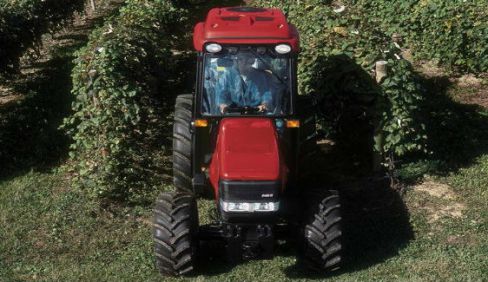 Features
Farmall N Platform
The platform on both Farmall N Cab and ROPS models is ISO mounted to reduce noise and vibration. Features include:
An ergonomic operator environment for long days in the seat
A tilt and telescoping steering column for optimal positioning and fatigue-fighting operation
A digital instrument cluster that monitors PTO and ground speed for accurate spraying and dusting operations
ROPS
Farmall N ROPS Models Feature:
An adjustable vinyl seat with operator's-presence sensor and retractable seat belts
A foldable mid-mounted roll bar that lets you maneuver under low-hanging vines

Cab
Farmall N Cab Models Feature:
Heating and air conditioning to keep you comfortable
Two external air filters that remove allergens and dust and provide a continuous supply of fresh air
Tinted glass for superior visibility
A deluxe cloth seat with operator's-presence sensor and retractable seat belt for your safety
Two wide doors for easy access from either side
Front and rear windows that open fully
A rear cab access panel and separate access point to route harnesses or cables

Engine and Axle Options
Engine Options
All Farmall® N Series tractors are powered by a 4-cylinder Tier 3-compliant diesel engine that's clean burning, fuel efficient and features:
2.9 L (179 CID) on the Farmall 75N
3.9 L (238 CID) on the Farmall 95N and 105N
Bosch fuel injection

Axle Options
The Farmall 75N is avialable with 2WD or MFD axles. The Farmall 95N and 105N are MFD only
A 55-degree turn angle on both the MFD and 2WD axles provides maximum maneuverability in tight spaces
The standard differntial lock on rear axles provides added traction in slippery, tough conditions
Up to 11 degree axle oscillation provides smooth travel over rough terrain.​​

Transmissions
Transmission Options
Case IH offers two transmission options on the Farmall N Series tractors. Both transmissions provide:
More convenience and speeds than found on a typical utility tractor
Extra-slow speeds, including three gears below 1 mph (1.6 kph) for precise movement in tight quarters
Optional hydraulically engaged wet clutch for smoother performance
Digital ground-speed display ideal for spraying, fertilizing and planting
16 X 16 Standard Transmission
Standard 16x16 transmission with mechanical shuttle provides:
Four speeds in each of four ranges
The ability to shift from forward to reverse in any gear with a synchronized mechanical shuttle lever
A shuttle lever located on the left, freeing your right hand for other controls
A top speed of 17 mph (30 kph), depending on tires
An independent parking brake

32 X 16 Power Shuttle
Optional 32x16 Power Shuttle Transmission
Eliminates the need to clutch
Ideal for loader-intensive applications
Wet clutch pack helps extend the Power Shuttle life
The Power Shuttle control is located on the left side of the tilt/telescoping steering column, leaving your right hand free to work implement controls
Specifications
| | |
| --- | --- |
| Make | Case IH |
| Model | Farmall 95N Narrow (2008-2015) |
| Engine Performance |   |
| Advertised Engine Power, Rated, hp (kW) | 95 (70.9) |
| Maximum Engine Power, hp (kW) | Same as advertised |
| Rated Engine Speed, rpm | 2300 |
| Power Boost, hp (kW) | No Boost |
| Fuel Tank capacity, gal (L) | 20 (77) |
| Diesel Exhaust Fluid (DEF) tank capacity, gal (L) | No DEF |
| PTO Performance |   |
| PTO Horsepower, Basic / Optional Transmission, hp (kW) | 82 (61.2) |
| PTO Speeds, rpm | 540 std; 540 / 1000 opt. |
| PTO operational Type (Independent; Live; Continuous) | Independent |
| Basic Engine |   |
| Engine Make | Case IH FPT |
| Engine Model | 4.5 L |
| Number of Cylinders | 4 |
| Displacement, cu in (L) | 274 (4.5) |
| Engine Bore, in (mm) | 4.095 (104) |
| Engine Stroke, in (mm) | 5.20 (132) |
| Block Design, Replaceable Liners | Parent bore block |
| Aspiration, Turbocharged or Naturally Aspirated | Turbocharged, intercooled |
| Fuel System |   |
| Fuel System Description | Rotary-Distributor Type |
| Fuel System Control, Electronic or Mechanical | Mechanical |
| Fuel Injection to combustion chamber, Direct or Indirect | Direct |
| Emission and Exhaust Treatment |   |
| Emission Level, US EPA Tier | Tier 3 |
| Selective Catalytic Reduction (SCR) w/Diesel Exhaust Fluid (DEF) | No |
| Exhaust Gas Recirculation (EGR) | No |
| Cleanup Catalyst (CUC) | No |
| Diesel Oxidation Catalyst (DOC) | No |
| Diesel Particulate Filter (DPF) | No |
| Exhaust Pipe, Vertical stack or Horizontal | Horizontal |
| Cooling System |   |
| Fan Drive Type | Belt |
| Electrical System |   |
| System Rating, Volts | 12 |
| Alternator Rating, Amps | 120 |
| Basic Transmission Configuration |   |
| Manufacturer's Description | 16 x 16 w/Mechanical Shuttle |
| Transmission Type | 4 Synchronized Speeds in 4 Ranges |
| Number of Forward / Reverse Speeds | 16F / 16R |
| Maximum Speed Forward, mph (kph) | 18.3 (29.5) |
| Creeper Range Available | See option w/Creeper |
| Shuttle (Forward-Reverse) Available | Standard |
| Optional Transmission 1 |   |
| Manufacturer's Description | 32x16 Power Shuttle |
| Transmission Type | Power Shuttle with Hi/Lo |
| Number of Forward / Reverse Speeds | 32F / 16R |
| Optional Transmission 2 |   |
| Manufacturer's Description | Optional Creeper; 44x16 |
| Transmission Type | Shuttle + Creeper |
| Number of Forward / Reverse Speeds | 44F / 16R |
| Wheel or Track Configuration |   |
| Drive Wheels or Tracks; 2WD, 4WD, 2WD / 4WD, 2 Tracks or 4 Tracks | 4WD |
| Steering Configuration: Front Steer, Frame Articulated, or Track-type Steer | Front Steer |
| Rear Axle Assembly |   |
| Final Drive Location and Description | Inboard planetary |
| Axle Output End, Flange or Bar | Flange |
| Axle Bar Diameter, in (mm) | No bar axle |
| Front Axle |   |
| Suspended Front Axle Available | No |
| Brakes |   |
| Service Brake Type | Wet disc |
| Hydraulic System |   |
| Hydraulic System Type | Open Center |
| Main Hydraulic Pump Type | Dual Gear |
| Implement Pump Flow, gpm (Lpm) | 12.7 (48.1) |
| Optional Pump Flow, gpm (Lpm) | 16.9 (64) |
| Number of Standard Remote Valves | 2 std, 3rd opt. |
| 3-Point Hitch Features |   |
| 3-Point Hitch Category | Category 1 / 2 |
| Optional Hitch Category | No option |
| Draft Sensing or Lift Control | Draft Control optional |
| Draft Link Ends Telescopic | Fixed |
| 3-Point Hitch Lift Capacity |   |
| Standard Lift Capacity 24 Inches behind pin, lb (kg) | 4,400 (1998) |
| Optional Lift Capacity 24 Inches behind pin, lb (kg) | No option |
| Standard Lift Capacity at lift pin, lb (kg) | np |
| Optional Lift Capacity at lift pin, lb (kg) | No option |
| Drawbar |   |
| Drawbar Description | Swinging |
| Wheelbase / Trackbase |   |
| Wheelbase, 2WD, in (mm) | No 2WD |
| Wheelbase/Trackbase, MFD/4WD or Track, in (mm) | 85.6 (2175) |
| Length |   |
| Length, 2WD, incl. Hitch/Drawbar, in (mm) | No 2WD |
| Length, MFD/4WD or track, incl. Hitch/Drawbar, in (mm) | 158 (4015) |
| Vertical Dimensions |   |
| Height to Top of Cab, in (mm) | 90.7 (2303) |
| Height to Top of ROPS raised, in (mm) | 91.6 (2326) |
| Width w/Tires or Tracks |   |
| Overall Width, with standard wheels or tracks, in (mm) | 53.4 (1356) MFD minimum |
| Weight (w/Tires or Tracks) |   |
| Weight, 2WD w/ROPS, lb (kg) | No 2WD |
| Weight, MFD/4WD w/ROPS, lb (kg) | 5,820 (2640) |
| Weight, 2WD w/Cab, lb (kg) | No 2WD |
| Weight, MFD/4WD or Tracks w/Cab, without ballast, lb (kg) | 6,107 (2770) |
| Weight, Total allowable, w/maximum ballast, lb (kg) | np |
| Tire / Track Size |   |
| Front Tire Size, 2WD | No 2WD |
| Front Tire Size orTrack Width, MFD/4WD or Track | 7.50 R18, R1 |
| Rear Tire Size or Track Width | 14.9 R28; 380/85 R28, R1 |
| Sales Literature |   |
| Literature Number | CIH5210904 |
| Literature Date | 5/1/2009 |
| Secondary Literature Source |   |
| Secondary Literature Number | -- |
| Secondary Literature Date | -- |
| Other Documentation |   |
| Document Number | TA-1356-13 |
| Document Date | 9/1/2013 |
| Status and Entry Dates |   |
| Manufacturing Status, Current or Archive | Archive 2016 |
| First Entry Date | 1/1/2013 |
| Revision Date | November 2013; Archived 28June2016 |