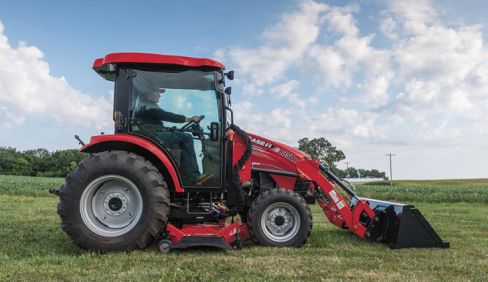 Double tap to zoom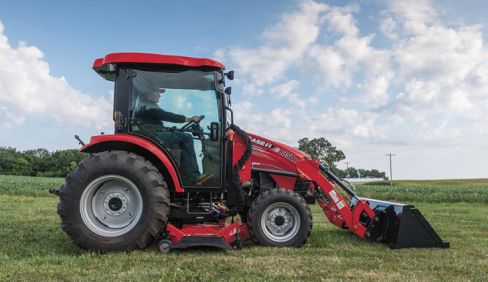 Features
Compact Farmall C CVT Family
Get to Know the Easy-Driving CVT
The compact Farmall C CVT drives likes a car — no shifting required. A simplified control pod guides the CVT transmission, and intuitive, easy-to-understand buttons on the pod allow you decide how your tractor operates. What's more, the CVT gets the job done quietly and efficiently, so whatever you're doing feels less like work and more like fun.
ENGINE
Power and Performance
A turbocharged, electronically-controlled 2.2L engine features 3 cylinders and a tunnel block design assures ruggedness and easy maintenance without sacrificing power, efficiency or performance. Two available models range from 45 to 53 HP (34-41 PTO HP).
Common Rail Direct Injection
The latest fuel-injection technology offers several advantages, including faster throttle response, improved power performance, increased efficiency and cleaner emissions. The system precisely meters fuel as power demands for fast recovery to load, along with quieter engine operation with less vibration.
Tier 4 B/Final Compliant
Engines use an internal Exhaust Gas Recirculation (EGR) system to meet Tier 4 B/Final requirements. A maintenance-free particulate matter catalyst provides for interruption-free operation.
TRANSMISSION
Change Speeds Seamlessly
The user-friendly CVT transmission provides smooth, seamless speed changes through varying conditions. It also makes the Compact Farmall C CVT one of the fastest roading compact tractors available, with speeds up to 20 miles per hour.
Simple Controls
Just press the single pedal and go. The CVT automatically adjusts to deliver the desired speed and match load conditions.
Easy Shuttling
Although CVT is an outstanding feature for all kinds of tasks, we didn't forget those, such as loader work, that require frequent directional changes. A premium, finger-controlled shuttle shift lever lets you easily change direction.
Cruise Control
Just like driving a car or pickup, cruise control maintains a constant ground speed. This is a great feature for applications with a consistent load, such as mowing.
Specifications
| | |
| --- | --- |
| Make | Case IH |
| Model | Farmall 55C CVT (2015-Present) |
| Engine Performance |   |
| Advertised Engine Power, Rated, hp (kW) | 53 (39.5) |
| Maximum Engine Power, hp (kW) | Same as advertised |
| Rated Engine Speed, rpm | 2600 |
| Power Boost, hp (kW) | No boost |
| Fuel Tank capacity, gal (L) | 13 (49.2) |
| Diesel Exhaust Fluid (DEF) tank capacity, gal (L) | No DEF |
| PTO Performance |   |
| PTO Horsepower, Basic / Optional Transmission, hp (kW) | 41 (32) |
| PTO Speeds, rpm | 540 |
| PTO operational Type (Independent; Live; Continuous) | Independent |
| Basic Engine |   |
| Engine Make | Case IH FPT |
| Engine Model | R7531E4 |
| Number of Cylinders | 3 |
| Displacement, cu in (L) | 136 (2.23) |
| Engine Bore, in (mm) | 3.70 (94) |
| Engine Stroke, in (mm) | 4.21 (107) |
| Block Design, Replaceable Liners | Parent bore block |
| Aspiration, Turbocharged or Naturally Aspirated | Wastegate Turbocharger, aftercooled |
| Fuel System |   |
| Fuel System Description | High Pressure Common Rail |
| Fuel System Control, Electronic or Mechanical | Electronic |
| Fuel Injection to combustion chamber, Direct or Indirect | Direct |
| Emission and Exhaust Treatment |   |
| Emission Level, US EPA Tier | Tier 4B / Final |
| Selective Catalytic Reduction (SCR) w/Diesel Exhaust Fluid (DEF) | No |
| Exhaust Gas Recirculation (EGR) | Internal EGR |
| Cleanup Catalyst (CUC) | No |
| Diesel Oxidation Catalyst (DOC) | DOC standard |
| Diesel Particulate Filter (DPF) | Particulate Matter Catalyst |
| Exhaust Pipe, Vertical stack or Horizontal | Horizontal |
| Cooling System |   |
| Fan Drive Type | Belt |
| Electrical System |   |
| System Rating, Volts | 12 |
| Alternator Rating, Amps | 75 (ROPS); 90 (cab) |
| Basic Transmission Configuration |   |
| Manufacturer's Description | Continuously Variable Transmission |
| Transmission Type | Chain Variator Drive |
| Number of Forward / Reverse Speeds | Infinite |
| Maximum Speed Forward, mph (kph) | 18.6 (29.9) |
| Creeper Range Available | Yes, with CVT |
| Shuttle (Forward-Reverse) Available | Standard |
| Optional Transmission 1 |   |
| Manufacturer's Description | No option |
| Transmission Type | No option |
| Number of Forward / Reverse Speeds | No option |
| Optional Transmission 2 |   |
| Manufacturer's Description | No option |
| Transmission Type | No option |
| Number of Forward / Reverse Speeds | No option |
| Wheel or Track Configuration |   |
| Drive Wheels or Tracks; 2WD, 4WD, 2WD / 4WD, 2 Tracks or 4 Tracks | 4WD |
| Steering Configuration: Front Steer, Frame Articulated, or Track-type Steer | Front Steer |
| Rear Axle Assembly |   |
| Final Drive Location and Description | np |
| Axle Output End, Flange or Bar | Flange |
| Axle Bar Diameter, in (mm) | No bar axle |
| Front Axle |   |
| Suspended Front Axle Available | No |
| Brakes |   |
| Service Brake Type | Wet multi disc |
| Hydraulic System |   |
| Hydraulic System Type | Open Center |
| Main Hydraulic Pump Type | Dual gear |
| Implement Pump Flow, gpm (Lpm) | 9.7 (36.9) |
| Optional Pump Flow, gpm (Lpm) | No option |
| Number of Standard Remote Valves | 1 or 2 optional |
| 3-Point Hitch Features |   |
| 3-Point Hitch Category | Category 1 |
| Optional Hitch Category | No option |
| Draft Sensing or Lift Control | Position control |
| Draft Link Ends Telescopic | Yes |
| 3-Point Hitch Lift Capacity |   |
| Standard Lift Capacity 24 Inches behind pin, lb (kg) | 2,800 (1270) |
| Optional Lift Capacity 24 Inches behind pin, lb (kg) | No option |
| Standard Lift Capacity at lift pin, lb (kg) | 3,541 (1606) |
| Optional Lift Capacity at lift pin, lb (kg) | np |
| Drawbar |   |
| Drawbar Description | 2-position swinging |
| Wheelbase / Trackbase |   |
| Wheelbase, 2WD, in (mm) | No 2WD |
| Wheelbase/Trackbase, MFD/4WD or Track, in (mm) | 73.5 (1867) |
| Length |   |
| Length, 2WD, incl. Hitch/Drawbar, in (mm) | No 2WD |
| Length, MFD/4WD or track, incl. Hitch/Drawbar, in (mm) | 122 (3098) |
| Vertical Dimensions |   |
| Height to Top of Cab, in (mm) | 92.7 (2355) |
| Height to Top of ROPS raised, in (mm) | 97.4 (2473) |
| Width w/Tires or Tracks |   |
| Overall Width, with standard wheels or tracks, in (mm) | 68.3 (1735) |
| Weight (w/Tires or Tracks) |   |
| Weight, 2WD w/ROPS, lb (kg) | No 2WD |
| Weight, MFD/4WD w/ROPS, lb (kg) | 4,190 (1900) |
| Weight, 2WD w/Cab, lb (kg) | No 2WD |
| Weight, MFD/4WD or Tracks w/Cab, without ballast, lb (kg) | 4,940 (2240) |
| Weight, Total allowable, w/maximum ballast, lb (kg) | np |
| Tire / Track Size |   |
| Front Tire Size, 2WD | No 2WD |
| Front Tire Size orTrack Width, MFD/4WD or Track | 10-16.5, 6PR R4 |
| Rear Tire Size or Track Width | 17.5Lx24, 6PR R4 |
| Sales Literature |   |
| Literature Number | CIH02021601 |
| Literature Date | 2/1/2016 |
| Secondary Literature Source |   |
| Secondary Literature Number | CIH02181501 |
| Secondary Literature Date | 2/1/2015 |
| Other Documentation |   |
| Document Number | TA-1412-14 |
| Document Date | 12/1/2014 |
| Status and Entry Dates |   |
| Manufacturing Status, Current or Archive | Current |
| First Entry Date | 12/27/2014 |
| Revision Date | 4/21/2015; 10/27/2016 |