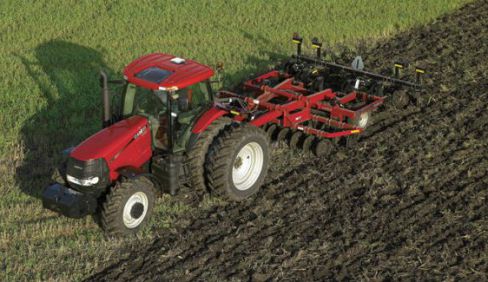 Double tap to zoom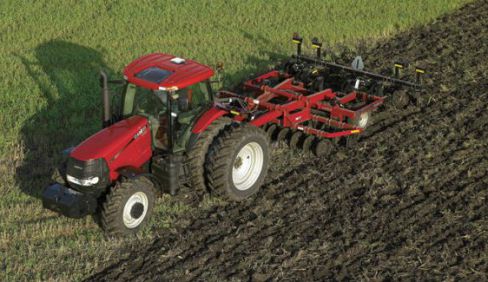 Features
We Have Residue Management Down to a Perfection
Case IH disk rippers help you cut, size and mix crop residue to reduce erosion and increase production capacity. This effective crop residue management allows you to:
Increase organic-matter content in the soil
Provide a soil/residue mixture that allows moisture to penetrate the subsoil faster
Decrease erosion through improved porosity and drainage
BT Residue Tool
With the adoption of Bt hybrids, you need aggressive disk components capable of cutting and mixing the tougher stalks. The Case IH Ecolo-Tiger® 875 tackles Bt residue with:
24-in. (610-mm) individual disks or optional, huge, 26-in. (660-mm) cushion gang® disks
12-in. (304-mm) spacing between gang disks
A split-the-middle gang position front to back
Reduces stalk size for improved flow and better mixing
Earth Metal Blades
The Ecolo-Tiger® 530C, 730C and 875 are fitted with Earth Metal® blades, which feature:
Shallow concavity
A crimped center
A 24-in. (610-mm) diameter
Patented index position relative to the shanks
Conser-Till Unique Features
The Case IH Conser-Till® 690 mulch-till ripper manages crop residue with the industry's shallowest-concavity disk blades in the front of the machine. This unique design offers:
Superior soil penetration
Excellent residue cutting and flow without throwing soil beyond the machine
Erosion-stopping residue stays on top of the soil

The 12-in. (304-mm) spacing and 6-in. (152-mm)-diameter, slim-center cast spools allow for consistent output in the heaviest residue and soil conditions.
50/50 Is Our Idea of Ideal Soil Composition
Ideal soil composition — known as soil tilth — is 50 percent soil and 50 percent pore space, with water and air equally distributed within the pore space. Soil compaction eliminates this needed pore space and is a common yield-robbing culprit. It can be caused by:
Numerous passes of heavy equipment
Planting early in wet soil
The hydraulic effect of heavy rains
Repetitive conventional/traditional tillage at the same depth
Varying soil textures throughout a field
Lack of crop rotation

Controlling Compaction
Proper primary tillage using a Case IH disk ripper effectively fractures compaction to:
Increase soil tilth
Allow vigorous root development
Promote better stands and higher-yielding plants
Warm soils faster and more evenly for earlier spring planting
Increase water absorption
Reduce ponding
Patented Tiger Points
Patented Case IH Tiger® points, featured on all Case IH disk rippers, have wings that extend downward, rearward and outward.
This revolutionary design creates a "lift, twist and roll" action that:
Shatters compaction
Relocates soil particles
Creates an open, mellow, healthier soil with excellent pore space and distribution
Allows for maximum soil tilth
 
Optional Lead Shanks
The Case IH Ecolo-Tiger® 530C and 730C disk rippers can be fitted with optional lead shanks to prefracture the soil ahead of the main ripping shanks. The addition of this option:
Enhances tillage
Reduces clod size
Specifications
| | |
| --- | --- |
| Make | Case IH |
| Model | Ecolo-tiger 527B |
| CONFIGURATION |   |
| Fore-aft configuratiion | Disk-Disk-Shanks-Leveler Disks |
| Primary blade type, disk or coulter | Disk std; Coulter opt. |
| Manufacturer's description of machine | Disk Ripper |
| DIMENSIONS AND WEIGHT |   |
| Working width, ft in (m) | 11' 3" (3.43) |
| Transport width, ft in (m) | 14' 0" (4.27) |
| Overall length, ft in (m) | np |
| Total weight, lb (kg) | 6,000 (2722) |
| DISK, FORWARD OF SHANKS |   |
| Disk blade diameter, in (mm) | 20 (508) |
| Disk blade thickness , in (mm) | 0.197 (5.0) |
| Disk blade spacing , in (mm) | 7.5 (190) Effective; 15 (381) on gang |
| Disk mounting, individual or gang | Individual |
| First disk angle or gang angle, degrees | np |
| Second disk angle gang angle, degrees | np |
| Disk operating depth, maximum, in (mm) | 4 (102) |
| Disk depth adjustment | Independent hydraulic |
| SHANKS |   |
| Number of main shanks | 5 |
| Shank spacing, in (mm) | 27 (686) |
| Shank operating depth, maximum, in (mm) | 11 (279.4) |
| Standard shank design | Parabolic |
| Standard shank trip force, lb (kg) | 1,800 (816) |
| Optional shank design | MRD semi-straight |
| Optional shank trip force, lb (kg) | np |
| Underframe clearance, in (mm) | 34 (864) |
| Obstruction clearance, trip height, in (mm) | 12 (304.8) |
| REAR DISK BEHIND SHANKS |   |
| Disk blade diameter, rear, in (mm) | 18 (459) |
| Disk blade spacing, rear, in (mm) | Opposing disks behind each shank |
| Disk mounting, rear, individual or gang | Pairs |
| Rear disk blade angle or gang angle, degrees | Opposing angles to level shank furrows |
| HITCH AND FRAME |   |
| Frame description, Non-folding, Folding, Flex | Non-folding |
| Pull type hitch system, rigid or level lift | Rigid |
| TIRES AND WHEEL MOUNTING |   |
| Transport wheel mounting, single, dual, walking tandem | Single |
| Transport Tire size (number of tires) | 12.5L x 15 - 10 Ply (2) |
| TRACTOR POWER REQUIREMENT |   |
| Required power, hp (kW) | 163 to 221 (122 to 165) |
| OPTIONAL ATTACHMENTS |   |
| Rolling Reel / Basket available, standard or optional | No |
| Spike harrow, available, standard or optional | No |
| Coil tine harrow available, standard or optional | No |
| Rear hitch | No |
| Other optional attachment | No |
| SALES LITERATURE |   |
| Literature Number | AE-332019R2 |
| Literature Date | 2003-2004 |
| MANUAL |   |
| Manual Number | 87374523 |
| Manual Date | 3/1/2006 |
| DOCUMENTATION |   |
| Manufacturing status | Current |
| First Entry Date | 2007 |
| Revision Date | 12/1/2012 |